What Star Wars' Jar Jar Binks Actor Says About Disney+'s Obi Wan Kenobi Rumors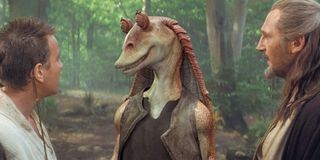 The Star Wars universe continues to expand, and now that the highly anticipated Obi-Wan Kenobi series has a new writer in Joby Harold, the Disney+ show is finally moving forward behind the scenes. Knowing that the mid-mythos series will be set eight years after the events of Star Wars: Revenge of the Sith, rumors floated surrounding the possibility that Jar Jar Binks might make an appearance on the show? For better or worse, though, Star Wars' Ahmed Best doesn't sound too hopeful about being on the show or having any Disney+ cameos.
Ahmed Best is currently all set to host the upcoming Disney+ series Star Wars: Jedi Temple Challenge, a game show that tests the abilities of young contestants aiming to achieve (fictional) Jedi Knighthood. Best is of course best known for playing Jar Jar Binks in the Star Wars prequel films, and he recently spoke at length about his experience playing the character. Interviewer Jamie Stangroom asked whether there was any truth to the rumor of a possibly bearded Jar Jar Binks making a cameo in the in-development Obi-Wan Kenobi series. Best addressed the rumor, saying,
That doesn't sound like a definitive no, but I'd wager that it's highly unlikely that Jar Jar will show up in the Obi-wan Disney+ series. Earlier in the interview, Ahmed Best revealed that he has no overwhelming intention of ever returning to play the deeply polarizing character, and it sure sounds like that chapter of his life is over. Personally, I don't think Best wants to reopen that can of worms after two decades, no matter what the offer might be.
After all, Ahmed Best has had a tumultuous relationship with Star Wars and its fandom. Best originated the youth-skewing role of Jar Jar Binks in Star Wars: The Phantom Menace and went on to play the character in the film's sequels, providing the voice and motion capture for the character. He later reprised the role in the popular animated series Star Wars: The Clone Wars. However, Jar Jar Binks has been disliked by many, and Best was on the receiving end of some very aggressive backlash over it. Superfan Simon Pegg quite publicly disliked Jar Jar, though he said he regrets hating on the character.
What's more, Ahmed Best admitted during the interview that people's harsh opinions did hurt, and he was frustrated about being alienated from the opportunity of doing more motion-capture projects later on in his career. He says that writing his one-man show, however, helped him get through those troubles. And at least he's able to stick around within the world of Star Wars in some capacity that won't rain a storm of haters on him.
The show must go on, of course, and the Obi-Wan Kenobi series continues chugging along behind the scenes. Per Ewan McGregor, the series will begin filming early next year, but stay tuned to CinemaBlend for updates. Meanwhile, Star Wars: Jedi Temple Challenge is set to premiere on Disney+ at some point this year.
Your Daily Blend of Entertainment News