When Bill Murray First Knew Ghostbusters Was Going To Be A Big Deal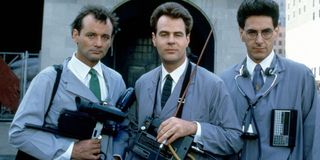 Today, we know Ghostbusters was a big deal. From the hilarious comedy to the earworm theme song, it became a huge culture phenomenon. You're probably already singing the theme song right now. But not all the actors were convinced at the time that it would be so successful, including Bill Murray.
Recently, Josh Gad invited many of the original cast from Ghostbusters to come on his YouTube channel's segment Reunited Apart, including director Ivan Reitman and Ghostbusters: Afterlife director Jason Reitman. While discussing Ghostbusters, Bill Murray shared when he first knew Ghostbusters was going to be a big deal. Here's what he said:
Ghostbusters became such a hit that it spawned a sequel, a cartoon, and several video games. Plus, it was recently remade in 2016 by director Paul Feig which included an all-female starring cast to play the Ghostbusters.
Bill Murray has appeared in every Ghostbusters movie, including a brief blink-and-you'll-miss-it cameo in the 2016 remake, but he plays a totally different character in that movie. His character was Martin Heiss, a skeptic and debunker that calls the Ghostbusters out.
Now, Ghostbusters is getting another movie in Ghostbusters: Afterlife, directed by Ivan Reitman's son, Jason Reitman. Based on the trailer, it looks like Ghostbusters: Afterlife will be heavily connected to the past movies, with new, younger characters carrying the torch.
However, that's not to say it won't have the old characters making appearances. Bill Murray has signed on to Ghostbusters: Afterlife, along with Dan Aykroyd, Ernie Hudson, Sigourney Weaver, and many others. Of the old cast, the only name that won't be returning is Rick Moranis who played Louis Tully. Still, it sounds like this time around, Bill Murray thinks Ghostbusters: Afterlife could spark the same magic. Here's what Billy Murray said about the script for Ghostbusters: Afterlife:
Unfortunately for Ghostbusters fans, it was announced by Sony that Ghostbusters: Afterlife would be delayed due to current events. It was originally scheduled for release on August 7, 2021, but is now set to release on March 5, 2021. During the interview with Josh Gad, Jason Reitman said he's currently editing the movie and has been glad to spend more time to spend on it. Hopefully, that means a great movie when it finally comes out.
Your Daily Blend of Entertainment News
Thank you for signing up to CinemaBlend. You will receive a verification email shortly.
There was a problem. Please refresh the page and try again.