Avengers: Endgame Concept Art Gives The Time Travel Suits An Awesome New Look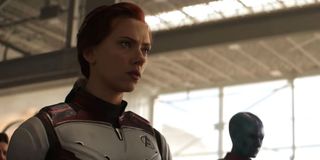 Avengers: Endgame introduced a number of new elements to the Marvel Cinematic Universe, but arguably the biggest contribution to the continuity was the introduction of time travel. Of course, Earth's Mightiest Heroes needed some special Quantum Realm suits to make the journey to different time periods, and the outfits were definitely cool to see. However, newly revealed concept art has revealed an alternative version of the suits, and it may be even better than what we saw on screen.
Aleksi Briclot, a visual artist who has worked on a number of Marvel Studios films, is known for posting early concept art from various projects. Most recently, via Instagram, he unveiled a new look at Nebula sporting one of the early designs for the Quantum Realm suits. And not only is this version sleeker, but it also comes equipped with a force field. Check out the awesome piece of art down below:
The Quantum Realm suits that were featured in Avengers: Endgame caught fans' eyes when they were first revealed in the trailer. And they became even more impressive when we later learned that the suits were purely computer-generated and not practical.
Despite all of that, this new look for the suits is simply incredible. Here, the costume actually has a much more futuristic look. The addition of the force field technology is also a nice touch, which makes one wonder why it didn't make the final cut. With the dangers the team faced of traveling through the Quantum Realm, that definitely would've come in handy.
Believe it or not, this isn't the first alternative look at the time-travel suits that Aleksi Briclot has shared over social media, as he initially unveiled another piece of art that was vastly different from the suits in the film. In that rendering, Captain America sported a suit that was very armor-like and heavily reminiscent of scuba diving gear. Although it was cool to look at, it was a little more unconventional and may have required the use of practical effects.
This new design, on the other hand, certainly could have been created using only visual effects. Because this suit still bears a resemblance to the final version it may not have been difficult for the creative team to bring it to life. The force field feature would have required them to add on a new visual element, but it still could've translated well.
Fans will no doubt continue to be satisfied with the Quantum Realm suits they saw on the big screen but, once they see this art, it may be hard for them not to think about what this suit could've looked like. The Avengers have definitely had some cool looks throughout the course of the MCU, and this would've have been a more than worthy addition to that line of outfits.
Avengers: Endgame is currently available to stream on Disney+.
Covering superheroes, sci-fi, comedy, and almost anything else in film and TV. I eat more pizza than the Teenage Mutant Ninja Turtles.
Your Daily Blend of Entertainment News
Thank you for signing up to CinemaBlend. You will receive a verification email shortly.
There was a problem. Please refresh the page and try again.