Avengers: Endgame Almost Featured A Cameo From A Die Hard Star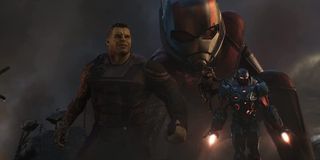 Last year's Avengers: Endgame was packed with a lot of familiar characters in its three-hour runtime, but we did meet a few new faces along the way. Unfortunately, one of the movie's cameos that ended up being removed from the final cut was Reginald VelJohnson, who many of you likely know best as Sergeant Al Powell from the Die Hard film series.
While audiences got their first look at Bruce Banner in his Smart Hulk form when he met up with Steve Rogers, Natasha Romanoff and Scott Lang at a diner to talk time travel, originally the plan was for Smart Hulk to debut in a scene where he rescued some people from a burning building. As Avengers: Endgame co-writer Christopher Markus highlighted in a watch party for the movie hosted by Comicbook.com, Reginald VelJohnson appeared in this deleted scene as a fireman, and Markus said that the actor's inclusion was their "loving tribute" to Die Hard.
Reginald VelJohnson's Al Powell played a key role in the first Die Hard movie, serving as the LAPD officer in communication with Bruce Willis' John McClane while he was combating with the terrorists who'd seized Nakatomi Plaza. So to have VelJohnson appear in Avengers: Endgame as a character trying to deal with a dangerous situation unfolding in a different tall building does indeed serve as a nice way to honor Die Hard. VelJohnson is also well-known for playing Carl Winslow on the sitcom Family Matters.
This deleted Avengers: Endgame scene was shown when the movie was re-released in theaters last summer, but it wasn't included on the home media release and isn't available to watch on Disney+. That re-release ultimately pushed the penultimate movie of the Infinity Saga to become the highest-grossing of all time, knocking Avatar down from the top spot.
It's worth mentioning that originally Smart Hulk was supposed to debut in Avengers: Infinity War, with Bruce Banner and his monstrous half merging during the Battle of Wakanda. However, Christopher Markus and his writing partner, Stephen McFeely, decided that this didn't strike the right "tone" for Infinity War, so Avengers: Endgame's diner scene was filmed during the reshoots, where Bruce explained how he'd worked in the gamma lab for 18 months to put the brains and the brawn together.
Since there are still no plans to give Hulk another solo movie, it's unclear when or even if we'll see him again in the MCU. That said, there's a decent chance he could show up in Disney+'s She-Hulk series, as not only is the eponymous character, Jennifer Walters, Bruce Banner's cousin, but Mark Ruffalo has said there's been talk about him appearing in the show. Ruffalo also expressed interest in participating in a Hulk vs. Wolverine story.
As for the Die Hard franchise, its last entry, A Good Day to Die Hard, was released in 2013 to overwhelmingly negative reviews. There were plans to make a movie that followed a pre-Die Hard John McClane, but that project was scrapped and is reportedly being retooled into a TV show.
The film side of MCU will pick back up with the release of Black Widow on November 6. If you're curious about what else this superhero franchise has coming up, look through our Marvel movies guide.
Connoisseur of Marvel, DC, Star Wars, John Wick, MonsterVerse and Doctor Who lore. He's aware he looks like Harry Potter and Clark Kent.
Your Daily Blend of Entertainment News
Thank you for signing up to CinemaBlend. You will receive a verification email shortly.
There was a problem. Please refresh the page and try again.