Netflix's The Old Guard Clip Features Charlize Theron Kicking Ass On A Plane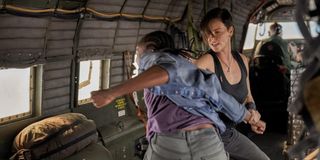 One thing Charlize Theron has increasingly become good at in movies is playing an intimidating badass. From Mad Max: Fury Road to Atomic Blonde, she makes cracking skulls and taking names look easy. Now she's at it again, kicking ass on a plane in a clip from Netflix's The Old Guard.
In the clip on YouTube, Charlize Theron's character Andy is fighting and testing potential recruit Nile Freeman, played by Kiki Layne. While it looks like Nile holds her own in the fight, it's pretty clear Charlize Theron has everything under control. Check it out:
Wow, that's some impressive fight choreography, and putting it inside a cramped plane makes it extra claustrophobic. Charlize Theron for her part, is performing these stunts like a champ. Now that Extraction has come and gone, it'll be fun to watch another action movie on Netflix. The Old Guard officially has my attention.
As it turns out, some of the action scenes and stunts pushed Charlize Theron to the limit on The Old Guard. She sustained a nasty injury by tearing a tendon in her left thumb. Despite that, she continued filming, showing a total commitment to her role. And if this clip is any indication, that work was worth it. This isn't the only time Charlize Theron was injured because of a role, either. While training for Atomic Blonde, she cracked the teeth in the back of her mouth and had to undergo surgery because of it.
For those who don't know, The Old Guard is based on a graphic novel about an elite group of mercenaries with a very unique skillset---they're immortal. Many of them have lived for a long time and been considered both good and bad over the ages. Even though they're immortal, Charlize Theron lays out the pitfalls and drawbacks of that in the action packed trailer. The plot focuses on taking on a new recruit while fighting to keep their identities a secret.
Charlie Theron spoke a bit about what drew her to the role of Andy in The Old Guard, and said that while the story is rooted in fantasy, her character felt grounded. Charlize Theron became excited by that and wanted to show Andy's genuine exhaustion of living for so long. You wouldn't be blamed for thinking this movie sounds a lot like mix between Highlander and Wanted. Still, there's only so many ways to spin a popular concept, and this one seems like a solid, and exciting angle.
The Old Guard is helmed by director Gina Prince-Blythewood and the screenplay is written by the original graphic novel author Greg Rucka. If you want to see more of Charlize Theron kicking ass, be sure to check it out when it lands on Netflix on July 10th.
Your Daily Blend of Entertainment News