Why Jon Stewart Needed Steve Carell To Make Irresistible Work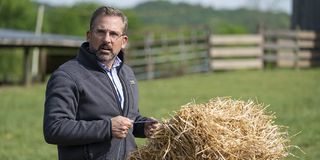 Jon Stewart and Steve Carell go way back when they first worked together as comedians on The Daily Show. They eventually went their separate ways with Steve Carell playing Michael Scott on The Office and Jon Stewart building The Daily Show into an incredibly popular talk show. That relationship likely helped Jon Stewart decide that he needed Steve Carell to make his new movie Irresistible work.
In an interview with Cinema Blend's Sean O'Connell, Jon Stewart spoke a little bit about his latest movie Irresistible, a movie he wrote and directed. When asked if he wrote it with Steve Carell in mind, he said he wrote it for him, and added:
This makes a lot of sense. With the movie The 40-Year-Old Virgin and the hit TV show The Office, Steve Carell crafted a comedic persona of being both lovable and inappropriate at the same time. It's a skill that proved especially effective for his character Michael Scott on The Office and a rare talent that, like Jon Stewart said, not many can pull off.
In Irresistible, Steve Carell plays Gary Zimmer, a Democratic strategist hoping to improve the Democratic Party's standing in rural areas by helping a retired veteran become mayor of a small town. And by the looks of the trailer, this task will become more difficult than he imagined as his efforts grab the attention of Republican strategists hoping to stop him.
As a comedian that routinely lampooned politics on The Daily Show, Jon Stewart seems to be leaning into his comedic strengths in this sophomore effort, and hoping Steve Carell's strengths can bolster the movie as well. However, by the looks of some of the reviews, it may not be enough.
After leaving The Daily Show, Jon Stewart hopped into the director's chair with his debut feature Rosewater, a movie that is anything but a comedy and established Jon Stewart as a director to watch. You can check out Stewart's conversation with CinemaBlend about Irresistible below.
Steve Carell, for his part, had gradually made a shift away from comedy and starred in several serious dramas, including Foxcatcher, Last Flag Flying, and Beautiful Boy. Though he has since made a return to comedy with Netflix's TV show Space Force.
Now, after so many years making fun of politics together, Jon Stewart and Steve Carell have reunited to work together on a comedy about politics, which feels totally fitting. You can catch Jon Stewart's Irresistible when it releases June 26th, 2020 on VOD.
Your Daily Blend of Entertainment News