Steve Carell's Idea To Bring The Office Characters Back Is Either Genius Or Lunacy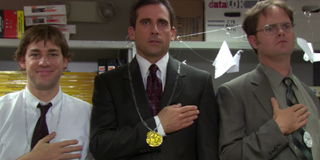 Peak TV has brought with it the era of reboots. While the Will and Grace reboot is currently enjoying its third and final season run, fans have been wondering whether or not another NBC show, The Office, will be getting the reboot treatment as well. Steve Carell could see the cast of The Office back together, but it involves a crossover of sorts with another show and the idea is either filled with genius or complete lunacy.
Steve Carell bid farewell to The Office in its Season 7 finale, before reprising his role as Michael Scott in the series' final episode. While it's been a few years since the beloved comedy ended, that doesn't mean fans aren't interested in knowing what the The Office's characters are up to now.
Instead of a reboot, however, Steve Carell has a completely outlandish idea about how the series could return that involves Cheers, where everybody knows your name and then some.
It might not be as much of a terrible idea as Steve Carell thinks. And hey, at least Ellen DeGeneres thought it was a great idea when the actor pitched it to her during his appearance on The Ellen DeGeneres Show.
In addition to Cheers, Ellen DeGeneres thinks it'd be a good idea for The Office cast to reboot Gilligan's Island and The Beverly Hillbillies as well, just for fun. Steve Carell says he would play Jethro from The Beverly Hillbillies, though I'm not sure this is what fans were thinking in terms of a cast reunion for The Office.
Still, at least rebooting these old shows with familiar faces would give them a new audience. Whereas with shows like ABC's Revenge, which is also getting the reboot treatment, fans can still recall what happened on the series since it only ended four years ago.
Rumors of a reboot began swirling after The Office cast reunited at showrunner Greg Daniels' home last year. However, when discussing a potential reboot for the show, Daniels' biggest concern would be "disappointing the fans" because they "ended it properly." So, no, there are currently no plans to resurrect the wildly popular NBC comedy. Still, when it comes to reboots, never say never.
For now, fans can continue binge-watching The Office on Netflix, though it's slated to leave the streaming service's library next year. The Office will move to NBC's new streaming service, Peacock, which is set to launch in the spring of 2021.
You can watch the clip of Steve Carell on The Ellen DeGeneres Show below.
If you're in the mood to pick up a new comedy series to watch, be sure to check out our complete guide to every new and returning show premiering through the end of 2019.
Your Daily Blend of Entertainment News
Thank you for signing up to CinemaBlend. You will receive a verification email shortly.
There was a problem. Please refresh the page and try again.