Would Bad Boys For Life's Directors Tackle A Marvel Or DC Movie? Here's What They Said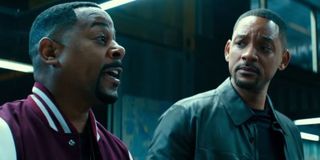 Bad Boys For Life was an unquestionable hit at the box office, back when box offices were still a thing. The success of the film was undeniably a life-changing moment for its directors. Now they're looking toward their next steps and look for a new project. They're making it known what they're open to -- and whether they think their future contains a stint with DC or Marvel.
Adil El Arbi and Bilall Fallah met as film school students and eventually went on to start directing films together. Prior to Bad Boys For Life, they'd had success in their native Belgium, but there's no way to understate how big of a break the blockbuster was for their careers.
There's been talk of them taking the reins for Beverly Hills Cop 4, though it definitely doesn't sound like there's anything concrete in the works. These days, they seem to be potentially branching out and looking to try an entirely different kind of genre. They recently admitted to ComicBook.com they've had a meeting with DC:
That's definitely something to keep an eye on. Lately, there's been a lot of speculation as to who is going to be filling out the director roster for Phase 4 and 5 Marvel movies. There's also obviously a lot coming up for DC in the next few years, including a couple of big movies that don't have directors tied to them yet.
Adil El Arbi and Bilall Fallah proved they can handle intense action and keep a crowd entertained with Bad Boys For Life, if the crushed box office records and positive response from critics and audiences is any indication. As of today, it's the highest grossing movie of the year, both in the United States and worldwide -- though the COVID-19 shutdown has obviously played a huge role in this year's box office returns. Even without a pandemic-induced shuttering of movie theaters, it's a bona fide hit -- and it would be really interesting to see the duo try their hand at telling a comic book story.
Would you want Adil El Arbi and Bilall Fallah to direct a Marvel or DC movie? Let us know in the comments!
Your Daily Blend of Entertainment News
Thank you for signing up to CinemaBlend. You will receive a verification email shortly.
There was a problem. Please refresh the page and try again.