John Wick's Director Reveals His Feelings On Stunt People Still Not Having An Oscar Category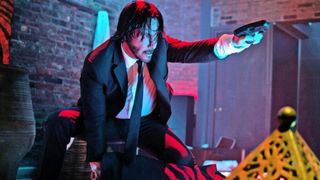 Anyone who would argue that stunt people aren't an essential part of the filmmaking process probably haven't been to the movies in a very, very long time. For years, people throughout Hollywood have argued that the Academy of Motion Picture Arts and Sciences should recognize the people that bring our most thrilling action sequences to life. Now, the director of the John Wick franchise has offered his thoughts on whether there should be an Oscar category for stunts, too.
Chad Stahelski is one of Hollywood's most legendary stuntmen. Before he began working as a stunt coordinator and director, he was most famous as Brandon Lee's double in The Crow. Though he's lent his talents to films like Captain America: Civil War and Birds of Prey -- and he'll be contributing his talents to The Matrix 4 as well, he's definitely best known for his work as the director of all three John Wick films.
So he knows all too well the incredible artistry and risk that goes into bringing stunts to life on screen. When asked if he thinks there should be an Academy Award for stunt work, he had an interesting answer:
He brings up a good point -- that stunt people haven't been motivated by accolades, because there just haven't been many up until this point. He also made the point to DiscussingFilm that, while the recognition may be long overdue, the creation of an Oscar category for stunts won't make or break the people behind the scenes:
If there were a category for stunts at the Oscars, there's little doubt films like John Wick would routinely make the cut. Chad Stahelski and Keanu Reeves have both spoken often about the work that has gone into crafting many of those films' incredible moments -- and it sounds like there are even more in store for us with John Wick 4.
Do you think there should be an Oscar for stunt work? Let us know in the comments!
Your Daily Blend of Entertainment News