Keanu Reeves' Double Reveals The John Wick Stunt Inspired By Big Hero Six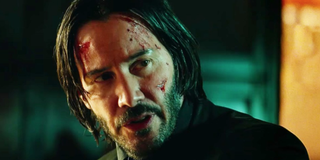 From the visceral fight choreography to heart-pounding car chase scenes, John Wick is notorious for its amazing stunts. You might think some of the inspiration for these stunts come from other iconic action films, but not always. According got Keanu Reeves' double, one of the stunts in John Wick: Chapter 2 was inspired by the animated kids-movie Big Hero 6.
Stunt double Jeremy Fry spoke with Metro about working with Keanu Reeves on the John Wick sets, and had nothing but good things to say about him. He also goes into detail about a crazy car stunt he was a part of on the set of John Wick: Chapter 2. He saw a stunt on Big Hero 6 where a car jumps sideways and wanted to recreate that in the movie. But, that proved to be a big challenge. Here's what Jeremy Fry said:
Things didn't go so well on his first try, hitting the front bumper of the Mustang. Jeremy Fry recalled how he was physically fine, but emotionally wrecked. It took him five tries until he finally got it on the fifth try, which he called, "electric." He also added:
In Big Hero 6, you may recall the intense car chase scene when all the heroes are cramped inside a car and Go Go, voiced by Jamie Chung, jumps the car sideways over a ramp and onto a bridge. Of course, as Jeremy Fry says, they used that as inspiration for their own awesome jump scene. Here's a side by side screenshot of both scenes:
While this was Jeremy Fry's favorite stunt to be a part of, it wasn't the hardest. According to director Chad Stahelski, the hardest stunt scene to pull off in John Wick: Chapter 2 is the opening motorcycle stunt sequence. Chad Stahelski was on the motorcycle himself being chased by John Wick and he said the timing had to be just right to make it work. It took nine tries to finally nail it.
With each John Wick installment, the stunts just get more and more intense and insane. John Wick: Chapter 3 - Parabellum had some of its most visceral stunts yet, something Chad Stahelski admits could be a problem moving forward, saying he doesn't have any idea how to top those stunts yet and is still figuring it out. Well, I suppose if they need more inspiration, it doesn't hurt to watch Big Hero 6 again.
Your Daily Blend of Entertainment News
Your Daily Blend of Entertainment News
Thank you for signing up to CinemaBlend. You will receive a verification email shortly.
There was a problem. Please refresh the page and try again.