Jason Momoa Will Voice An Animated Classic, Because Why Not?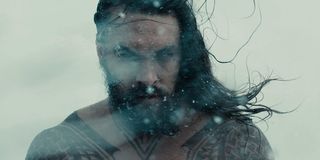 Jason Momoa is most known for his brute strength and proclivity to play action heroes with sharp objects, like Aquaman and Conan the Barbarian. But all that is about to change, as he just signed on to voice a character from a beloved animated classic.
According to Deadline, Jason Momoa will be the voice of Frosty the Snowman in a new CGI/live-action movie coming from a collaboration between Warner Bros. and Stampede. Jon Berg and Greg Silverman, who also worked on James Wan's Aquaman, will produce. The screenplay will be written by Elf screenwriter David Berenbaum.
This is clearly a big departure from Jason Momoa's typical brand of playing badass roles that involve cracking skulls and taking names. Perhaps this is an attempt to branch out and see the softer side of Momoa, kind of like how Dwayne Johnson voiced Maui in Disney's Moana.
The beloved Christmas animated classic Frosty the Snowman (based on the same-named 1950 Christmas song) first released in 1969 and has been showing up on everyone's TV ever since, providing awesome childhood memories and also acting as fodder for modern interpretations and fake controversies.
There's no word if this Jason Momoa-led movie is a remake of the original cartoon classic or a total reimagining. But, if I had to guess, I'd say it's unlikely this is a remake of the cartoon classic and will probably be its own thing entirely. Whatever it turns out to be, they have quite the screenwriter in David Berenbaum, considering Elf is practically a Christimas classic at this point.
As for Jason Momoa's career trajectory, it's doubtful this will be a new path, but a one-off amidst a sea of action movies. He's already got lined up several action movies for the future.
Perhaps his largest role to date is playing Arthur Curry in Aquaman. Given that movie's incredible success, he'll be returning to play the aquatic character once again in Aquaman 2. As is only natural with a sequel, Jason Momoa said that Aquaman 2 will be bigger than the original with many more levels.
Before that though, he'll appear on the big screen much sooner as Duncan Idaho in the epic science fiction adaptation of Dune directed by Denis Villeneuve. Jason Momoa described this character as "Han Solo-esque," but instead of being good at a blaster, Duncan Idaho is a master swordsman who acts as the right-hand man to Duke Leto (Oscar Isaac). Sounds about par for the course for Jason Momoa.
All things considered, there's a solid chance Jason Momoa could knock the role of Frosty the Snowman out of the park. Though he's played up the action star persona quite a bit, if his performance on SNL is any indication, he has a good sense of humor that could play nicely in this CGI/live-action movie.
Your Daily Blend of Entertainment News
Thank you for signing up to CinemaBlend. You will receive a verification email shortly.
There was a problem. Please refresh the page and try again.