Avengers: Endgame Concept Art Reveals Trippy Alternate Vision For Time Travel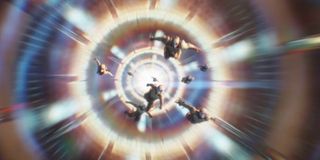 While Doctor Strange introduced the concept of time manipulation into the Marvel Cinematic Universe, Avengers: Endgame marked the franchise bringing time travel into play. Using the Quantum Realm and specially-designed suits, the heroes who survived Thanos' snap went back in time to retrieve the Infinity Stones and use them to bring back those who'd been erased from existence.
While the heroes venturing back years was one of the many ways Avengers: Endgame visually dazzled, it turns out their Quantum Realm time travel could have looked even more trippy, as you'll see below:
Concept artist Stephen Schirle shared this artwork on his Instagram page of what looks to be Steve Rogers, a.k.a. Captain America, inside of the Quantum Realm. While the final cut of Avengers: Endgame saw him and his allies flying through the Quantum Realm as they traveled back in time, here the Star-Spangled Avenger is seen walking across it, which is what Hank Pym and Janet van Dyne did in Ant-Man and the Wasp. This environment is also somewhat reminiscent of the Spider-Man: Into the Spider-Verse opening credits with the crazy lines and vibrant colors.
While this version of the Quantum Realm certainly would have been cool to see in Avengers: Endgame, I'd argue that the final product did a better job of reflecting its microscopic nature. Granted, if you kept up with the Ant-Man movies, you were already well aware of the, but for those who skipped out on Scott Lang's solo adventures, then Endgame caught you up to speed on this strange alternate dimension.
Although Agents of S.H.I.E.L.D.'s current and final season has shown that there are other methods of traveling through time (assuming you consider that series canon to the MCU film series' continuity), it remains to be seen if time travel will be utilized in the MCU movies again. It doesn't sound like retrieving the Infinity Stones again from other time periods as an option that can be turned to again, so we'll just have to wait and see what's in store for Phase 4 and beyond to learn if another opportunity presents itself that requires one or more of the big screen heroes to go into the past or future.
However, that doesn't mean time travel is off the table entirely for the MCU on all fronts. Along with the aforementioned Agents of S.H.I.E.L.D. Season 7, the upcoming Disney+ series Loki features the eponymous protagonist going to different time periods, including 1975. And just to clarify if you're out of the loop on Loki, this series isn't resurrecting the main Loki who was killed by Thanos in Avengers: Infinity War, but rather following along with the alternate Loki who escaped S.H.I.E.L.D. custody in 2012, as seen in Avengers: Endgame.
The MCU will also keep exploring other realities, as clearly indicated by Stephen Strange's next solo feature, Doctor Strange in the Multiverse of Madness. No specific plot details have been revealed for the sequel yet, but needless to say that further exploration of the multiverse, particularly visiting alternate Earths, will mean big things for this continually-expanding superhero mythos going forward.
Keep checking back with CinemaBlend for more MCU updates, and scan through our Marvel movies guide to learn what else the superhero franchise has coming to theaters.
Your Daily Blend of Entertainment News
Connoisseur of Marvel, DC, Star Wars, John Wick, MonsterVerse and Doctor Who lore. He's aware he looks like Harry Potter and Clark Kent.
Your Daily Blend of Entertainment News
Thank you for signing up to CinemaBlend. You will receive a verification email shortly.
There was a problem. Please refresh the page and try again.