20 Movie Titles As Blatantly Untrue As Unstoppable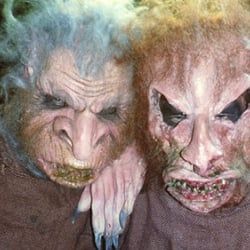 Sure, Unstoppable makes a good, intense-sounding title for this weekend's new Tony Scott movie, and far better than The Taking of Pelham 1 2 3 or Deja Vu. But there's an inherent problem at the center of it that probably only drives language geeks crazy, and it's this: it is a movie about a runaway train that is inevitably stopped by the hero. Therefore, it is not unstoppable. The title is a lie, and yet we buy into it anyway.
But this is far from the first time a movie's title has promised one thing and given something else, or said something blatantly untrue given what comes in the movie. We're not just talking bad titles or silly titles but titles that are total, complete lies... if taken literally. Just for fun, below are 20 of our favorite examples of it, from the grammatically nitpicky to the flat-out ridiculous and silly. Take a look and chime in with your favorites in the comments.
Shaun of the Dead
Even though they're trying to reference Dawn of the Dead, it doesn't exactly work. This title implies that Shaun is either dead himself, is a member of their team, or is at least sympathetic to their cause. Instead he spends the entire movie either making the Dead even more dead than they already are or simply running away from them. Shaun is Opposed to the Dead's Cause would be more accurate.
Apocalypse Now
This is a movie about Vietnam, not the end of the world. Not only that but the use of present-tense means this title is untrue every single time you read it.
Invincible
So far as I know, former Philadelphia Eagles player Vince Papale, whom Mark Wahlberg plays in the movie, is not now nor has he ever been immortal. Not only that, but he's injured plenty of times while playing for the team.
Friday the 13th: The Final Chapter
This movie was the fourth entry in the franchise. Since then they've released eight more Friday the 13th movies, one of which was called The Final Friday. It too was followed by more sequels. They're pretty much just fucking with us.
The Last Samurai
While this movie does indeed contain several samurai, it's actually about some white guy who goes and hangs out with them and is not, in fact, at all a samurai. The Guy Who Hung Out with the Last Samurai would have been more accurate.
The Day After Tomorrow
In this Roland Emmerich film, which day is tomorrow, and which day is the day after? What does any of this have to do with the world freezing?
Mission: Impossible
At best Ethan Hunt's missions are kind of tough. Impossible? Not even close, since the movies often end with him completing them. Worse, the first entry in this franchise isn't even really about a mission. It starts when the mission ends and follows Ethan Hunt as he goes rogue and generally avoids doing any missions at all.
You Only Live Twice
Even if you're James Bond, even if you successfully fake your own death, there is still only one actual life to live. Yes, the soap opera has it right.
Superbad
The central characters of this film, while interesting and funny and totally likable, are neither super nor bad, and definitely not both at the same time. Go ahead, try and argue the title applies to other characters in the film-- I dare you.
How To Lose A Guy in 10 Days
It's Kate Hudson's mission in the film to prove she can get a guy to ditch her in that time frame, but guess what! She totally fails! Just like a woman, am I right?
You Don't Mess With The Zohan
The truth is, this entire movie is pretty much about people messing with Zohan. If it has a plot, that's it. Apparently you do mess with the Zohan, especially if you want to turn him into an Adam Sandler movie.
How The Grinch Stole Christmas
They should have called it How The Grinch Tried To Steal Christmas But Was Overcome By The Power Of Christmas Cheer And Adorable Cindy Lou Who.
The Jungle Book
This title worked better when this story actually was written in a book. As a movie though, there's no book anywhere to be found. I'm pretty sure those animals can't even read. There is a jungle though, so it's half right.
The Triumph Of The Will
Sure, Leni Riefenstahl definitely thought the Nazi will would triumph in the end when she made the film. But joke's on her! USA! USA!
The Karate Kid (2010)
No one in this movie does Karate. It's all Kung Fu. Worse, Karate originated in Japan yet the entire movie is set in China, and stars Chinese people.
Meet Dave
The thing is, no one in this movie actually meets Dave… because Dave doesn't exist. It's just the fake name Eddie Murphy gives the mindless robot he rides around in. But Dave doesn't think or act or really exist. Meeting Dave is like introducing yourself to a toaster. "Hi Bob, meet my toaster Tom. Tom say hi to Bob. Tom? The damn thing never talks. If only it wasn't out of warranty."
Santa Claus Conquers the Martians
In this oft lampooned B-movie, Santa doesn't so much conquer the Martians as get kidnapped by them and then make a bunch of bad jokes until they let him go. Note to the aforementioned Grinch: This is how you steal Christmas.
Ordinary People
Ordinary People is about a bunch of rich people dealing with a death caused by a yachting accident. Maybe you live in a better neighborhood than I do, but this doesn't seem like an ordinary group to me.
Troll 2
As immortalized in this year's documentary Best Worst Movie, Troll 2 isn't just one of the worst movies ever made, it's also among the most blatantly false. Not only is it not a sequel to Troll, it features no trolls at all, but vegetarian goblins terrorizing a family. Unlike the rest of the titles on this list, though, Troll 2's ridiculous title probably only makes it better.
Chariots of Fire
There are no chariots in this film, and they are definitely not made of fire-- it's a movie about British runners entering the Olympics. Yeah, yeah, the title is a metaphor for something or another, but you really never can get that image of the flaming chariots out of your head the entire time you watch this movie.
Join in the fun and list your own blatantly untrue movie titles in the comments section below.
Your Daily Blend of Entertainment News
Staff Writer at CinemaBlend