Batman V Superman And 13 Other Extended Cuts Available On HBO Max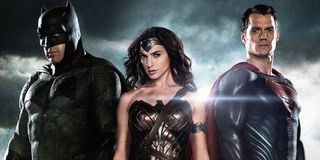 CinemaBlend participates in affiliate programs with various companies. We may earn a commission when you click on or make purchases via links.
In the discussions that have been triggered since the announcement of Zack Snyder's Justice League, a very important question has arisen: Should HBO Max become a "platform for lost director's cuts" or not? When you look at the lineup available, it turns out there's a definite answer to that question, as there are plenty of titles beyond Batman v. Superman: Dawn of Justice that have proven the new streaming service already serves that purpose.
While the extended cuts included with the movies we're about to highlight aren't exactly "lost", they're surprisingly available on the HBO Max platform, as they've been brought over from HBO's own library and into this brave new streamer. Some are more expansive, while others are more streamlined, and still more minorly tweaked; but all are available right this moment, for your viewing pleasure.
Batman v Superman: Dawn of Justice (Ultimate Edition, 2016)
It wouldn't be an extended cut rundown if we weren't able to talk about a Zack Snyder movie. As a majority of the director's films have an alternate cut of some sort, Batman v. Superman: Dawn of Justice might be one of his more substantial alternate versions. With 31 minutes of additional footage, the Ben Affleck/Henry Cavill showdown includes, among other things, a little more Jimmy Olsen action, an entire character played by Jena Malone that wasn't in the theatrical cut, and a bunch of bloody, R-rated violence.
Stream It On HBO Max here (opens in new tab).
Green Lantern (Extended Cut, 2011)
Despite their best efforts to play down their previous collaboration, Ryan Reynolds and Taika Waititi did star together in the failed Green Lantern franchise starter. And should you be a fan of that particular film, there's an extended cut that runs about 9.5 minutes longer. In the moments that are restored, we get more of a feel for Reynolds' Hal Jordan's backstory, both from his childhood and some extra scenes in his adult incarnation. By and large, the Green Lantern you see is the one you get, but it's good to know that viewers have a choice when it comes to how they want to experience this DC Comics movie.
Stream It On HBO Max here (opens in new tab).
Little Shop of Horrors (The Director's Cut, 2012)
After the original, Broadway musical ending to director Frank Oz's adaptation of Little Shop of Horrors was cut down in test screenings, the full color version was reinstated for the film's Director's Cut 26 years later. Changing the events the audience witnessed into a darker, more horror-comedy worthy ending, the musical number "Don't Feed The Plants" was restored, and audiences can watch this drastically different third act alongside the more traditional happy ending theatrical audiences were given.
Stream It On HBO Max here (opens in new tab).
Fast Five (Extended Edition, 2011)
It used to be that you could depend on a blockbuster like Fast Five to deliver an "extended edition" almost instantaneously when it hit Blu-ray and DVD. But one of the big differences, besides the adding of some blood effects, is that director Justin Lin actually prefers this cut of the pivotal entry to the Fast Saga. Considering one of the changes involves Dwayne Johnson's Luke Hobbs snapping a guy's neck in a more pronounced fashion, we can kind of see why this is true.
Stream It On HBO Max here (opens in new tab).
Hostel/Hostel Part II (Extended Versions, 2006/2012)
It's not always about how much footage you can cut or add to your alternate cut. Sometimes, like in the case of Eli Roth's extended cuts to Hostel and Hostel Part II, it all comes down to the gory details. The first film's extended cut makes the final murder all the more brutal to watch, with the second film's alternate version giving audiences the same sort of treatment earlier on in the film's events. It's a shame the director's cut of Hostel isn't available though, as instead of a gory finish, the film takes a more sinister turn in its last moments.
Stream Hostel On HBO Max here (opens in new tab) / Stream Hostel: Part II here (opens in new tab).
King Arthur (Director's Cut, 2004)
Here's an interesting scenario: director Antoine Fuqua made a Clive Owen starring King Arthur movie that, if released in its untouched form, would have been an R-rated film. In the waning days of Disney's Touchstone Pictures brand, that was a possibility the studio just wasn't into. A shorter, PG-13 version went to theaters, with King Arthur's director's cut going to video upon the film's arrival on the home market. This cut is roughly 15 minutes longer, with violence and blood from the R-rated version restored, as well as some scenes removed and rearranged from that initial cut.
Stream It On HBO Max here (opens in new tab).
Paul (Extended Version, 2011)
The Simon Pegg/Nick Frost sci-fi comedy Paul is, surprisingly, another one of those extended versions that popped up on home video and have stuck around ever since. Getting down to brass tacks, this extraterrestrial road trip is only about 6 minutes longer, with extended and alternate jokes added into the mix. You might only notice them if you're a devout follower of Greg Mottola's Paul, but with a movie this funny, why not watch it twice in a row and compare the differences?
Stream It On HBO Max here (opens in new tab).
Pearl Harbor (Director's Cut, 2001)
You might laugh at the fact that Michael Bay's World War II epic Pearl Harbor has a director's cut that's only about a minute longer. However, as we've seen time and again in the examples we've discovered, sometimes the smallest differences are the most meaningful. With more profanity throughout, and some added brutality during the invasion sequence centerpiece, this extended cut of the film was supposed to net the project an R-rating. Much like King Arthur after it, Disney had the film toned down to obtain a PG-13 rating; leaving home audiences a chance to see Bay's intended version down the line.
Stream It On HBO Max here (opens in new tab).
The Alien Franchise (1990- 2003)
If you're a fan of the Alien franchise, or happen to own the Alien Anthology Blu-ray set, the alternate cuts are known to you rather well. But if you've yet to experience the gauntlet of extended material for each film in the Ellen Ripley portion of the series, HBO Max offers the perfect chance to learn more. From 1990's first special edition release of Aliens, to the rest of the extended editions that came to be in 2003, there's a lot of backstory contained in these differing versions of Alien films past. Most notable is the fact that the workprint cut of David Fincher's Alien 3 runs 30 minutes longer, and includes a new creature, and a lot of different odds and ends that flesh out the film's story more completely.
Stream Alien On HBO Max here (opens in new tab) / Stream Aliens here (opens in new tab) / Stream Alien 3 here (opens in new tab) / Stream Alien: Resurrection here (opens in new tab).
Crash (Director's Cut, 2006)
If you're not a fan of the controversial Best Picture winner that is Paul Haggis' Crash, the director's cut more than likely won't convert you. Only about two minutes worth of differences exist, and all those extensions are bits and pieces of scenes that Haggis feels play better in this extended version. That said, it's interesting to see how various conversations in this ensemble drama elaborate on the work that was already done with the previous film.
Stream It On HBO Max here (opens in new tab).
We're going to have to wait for Zack Snyder's Justice League to join the ranks above, as early 2021 is when we'll finally see this infamous alternate cut make its debut. But if you're looking for some earlier exercises in comparing and contrasting theatrical and extended cuts, you've got plenty of material to choose from above. And if you're not a subscriber to HBO Max, you can check out the 7-day free trial (opens in new tab) to sample the movies we've mentioned above. As you can see, there's plenty of time to do just that.