The 10 Best DC Superhero Shows Of The Modern Era, According To Rotten Tomatoes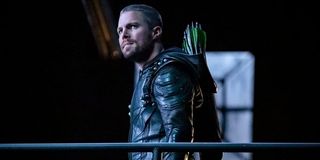 Marvel television tends to get a lot of favorable attention in this age of superhero media, but it's worth mentioning that DC Comics' live-action series are equally pretty solid. In fact, all the DC shows of the modern era are considered "Fresh" by Rotten Tomatoes' average critic ratings. (Note that this technically includes the latest DC Universe offering, Doom Patrol, but with not even a full season completed, it's been left off the list.)
Those wild characters aside, the rest of DC's live-action have been ranked here from lowest-rated to top-rated, and superhero fans may be shocked by where each show falls on the list. Check out how all the costumed heroes and villains' series ranked below, possibly while wearing your own cape and cowl, set to take out vigilante justice if the choices aren't to your liking.
10. Krypton- 61%
Syfy's lone contribution to DC's current television lineup may be the lowest ranked entry, but it's still "super" enough to be certified fresh. Though it isn't quite the "Game of Thrones, but with Kryptonians" saga it set out to be, audiences seem satisfied enough with this story about Superman's ancestors. With only one season under its belt, and a second season that will soon introduce a major Superman villain to TV, there's definitely a chance this score will improve in the upcoming summer season.
9. Constantine- 72%
The only show on this list to get officially cancelled by its network, Constantine remains a series well-loved by those who watched. Despite this, The CW hasn't given Matt Ryan's character a proper live-action series follow-up, though he has been a solid presence as part of DC's Legends of Tomorrow, not to mention his animated series. That's as good as it's going to get, but with the character frequently rotating around the Arrow-verse, fans shouldn't lose hope that he might get another show of his own one day.
8. Titans- 79%
DC Universe's flagship original drama started off its run on a very controversial note with a big f-bomb in its trailer that had some questioning if the series would be cringe-inducing with its R-rated edginess. Fortunately, critics seem overall sold on Titans after one season, and viewers seem to be on the same page, with audience approval at 77%. Early news about Season 2 sounds promising, so this is a show who's score is set to climb.
7. Gotham- 81%
Few DC superhero shows have been as gleefully polarizing as Gotham, yet its impact has only gotten stronger with the unpredictably maniacal events of each season. It hasn't been the most canonically faithful Batman adaptation out there, but it has given the world a truly unique take on Gotham City, as well as Bruce Wayne's pre-Dark Knight adventures. Hopefully Bruno Heller's next entry Pennyworth is as good as this show at its best, even without Cameron Monaghan's magnificence.
6. DC's Legends Of Tomorrow- 83%
DC's Legends Of Tomorrow took a little while to find its fan-pleasing place in the Arrow-verse, earning lots of downbeat criticism with viewers in its first season. Things got better in Season 2 when the hero ensemble started to take itself less seriously, and the show has only improved with each wacky time-traveling adventure the crew takes on. That strategy typically doesn't work well for most shows, but for Legends of Tomorrow, it's the only way.
5. Arrow- 86%
The flagship drama that launched The CW's Arrow-verse is coming to an end, and it's doing so on the higher end of the DC TV food chain. While the final season of Arrow isn't happening on the most ideal of terms, and without all of its stars, fans are getting a conclusive and hopefully satisfying ending to The CW series. Will Oliver Queen survive, or is there a chance Arrow concludes with a not-so-happy ending?
4. Supergirl- 87%
The second show on this list that deals with Superman indirectly, Supergirl enjoys a substantially better rating than Krypton. It helps, of course that it's a serviceable substitute to a Man of Steel series, and Clark's caped hero does occasionally make appearances in National City. Plus, the show's current inclusion of Lex Luthor and the Red Daughter has elevated the tension in fun ways, and one can hope that things are only getting better going forward into Season 5.
3. The Flash- 89%
Coming in at just under 90%, The Flash has a solid approval from critics for its five-season run. That's a pretty solid rating, and with the "Crisis On Infinite Earths" special set to play a potentially significant part in the hero's future, it's possible this average could rise in the near future. (Assuming Nora hasn't already traveled back to the past to change it.) That's what we're hoping anyway, since The Flash will be the Arrow-verse's lynchpin once Oliver Queen bids everyone farewell.
2. Smallville- 94%
Smallville probably makes the absolute cutoff when it comes to "modern DC Television," and it's one of the best. Without Smallville, DC may not have considered starting up Arrow in the immediate aftermath, and there would be drastically less live-action DC shows than there are currently. We shudder to think of that timeline being a reality, and we're grateful to be in a better one. Now, can we get some of those characters (and not just the actors) to finally appear in an Arrow-verse crosssover of mythic proportions?
1. Black Lightning- 94%
Who said a DC Comics show on The CW needs multi-series crossovers to be successful? Anyone who did may go ahead and feast on crows, because the highest critically rated DC series at the moment is the one that isn't hanging out and playing nice with the Arrow-verse shows. Black Lightning is only two seasons in, but there's no denying the show has nailed much of what it's done in its short run. Now, let's see if it can hold that rating a few more seasons.
As previously mentioned, DC Universe's Doom Patrol was intentionally left off the list as it hasn't completed a full season. With that said, it's worth mentioning the misfit hero program is doing well thus far, and its average of 94% ties it with Smallville and Black Lightning for the top spot. That could change before the season is finished, but for now, DC fans may do well to check out what all the fuss is about.
Mick likes good television, but also reality television. He grew up on Star Wars, DC, Marvel, and pro wrestling and loves to discuss and dissect most of it. He's been writing online for over a decade and never dreamed he'd be in the position he is today.
Your Daily Blend of Entertainment News
Thank you for signing up to CinemaBlend. You will receive a verification email shortly.
There was a problem. Please refresh the page and try again.