Jonathan Groff's Spit Is A Hamilton Highlight, But Groff Admits He's Always Been A Spitter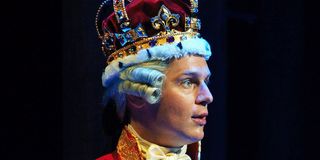 If you've watched Disney+'s Hamilton film, chances are you've had a few reactions: "Wow, I didn't realize I could cry that much in one sitting," and "Wow, I had no idea that much spit could come out of a person's mouth at one time." For all its purely emotional moments, one of the most talked about parts of Hamilton is Jonathan Groff's inspired, hilarious portrayal of King George -- and the fact that he can't stop spitting throughout his first song. Yes, by the way, Jonathan Groff knows he spits a lot, and he knows we can't stop talking about it.
In "You'll Be Back," King George sings a hilarious Brit Pop breakup song to the soon-to-be United States, telling them he'll "kill your friends and family to remind you of my love." The lyrics are clever enough to keep you giggling but, after the Hamilton film hit Disney+ last weekend, fans found a whole new level of humor in the song, albeit one that maybe wasn't entirely intentional.
Jonathan Groff, who originated the role on Broadway, gives an impassioned performance, and fans on Twitter were quick to point out that, well, he spits. Like, a lot. It's become a bit of a thing online. Even Hamilton's creator Lin-Manuel Miranda got in on the fun, warning fans they needed to don their raincoats when his buddy Groffsauce was on stage.
Though the memeification could have been enough to make the actor spitting mad (I had to), he's actually taking the whole thing in stride. He explained to Variety that even though this is the first time many of us are seeing his spittle in HD, this is sort-of what he does when he performs:
Variety notes that fans who saw Jonathan Groff on stage in Little Shop of Horrors also noticed his tendency to spit a lot. To be fair, until this point, many fans of Jonathan Groff have primarily known him for his voice. Though he starred in HBO's Manhunter, the vast majority of us know him best as Frozen's Kristoff and, even though we're well-apprised of his vocal talents, it's hard to see spittle via animation (maybe Disney can work that into Frozen 3?).
Jokes aside, this is really one of the coolest things about being able to see Hamilton up close. Live theater is amazing, but sometimes inaccessible to bigger audiences, especially these days. Even if we know every word to a Broadway show, thanks to cast recordings, we miss out on the big and small -- and wet -- details that occur during a live performance.
Did you laugh when King George's spit went flying? What was your favorite hidden detail in Hamilton? Let us know in the comments!
Your Daily Blend of Entertainment News