9 Great John Wayne Movies And Where To Stream Them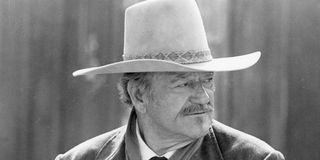 The Duke, John Wayne (even though his real name was Marion) was an icon. Still is an icon, actually. Even though he died back in 1979, he's still one of the few actors who immediately comes to mind when you picture a movie star. Granted, many of the movies he helped popularize—the western—aren't really all that popular today. But John Wayne movies will always still be synonymous with old Hollywood.
But here's the thing. Even though the Duke played a part in at least 90 movies (I actually bought a DVD set recently with over 15 John Wayne movies for only five bucks!), very few of his films are actually available on any of the major streaming services. Not only that, but some of his major movies are here today, gone tomorrow, or gone somewhere else, like True Grit, which is no longer on Netflix, but can now be found on Amazon Prime.
Still, there are a few genuine John Wayne classics that you can find on other streaming services right now, and I aim to steer you in those directions. So, are you ready, pilgrim? If so, then let's get a move on. Yah!
The Shootist – Starz
Here's a little history lesson. In the movie, The Conqueror, John Wayne plays Genghis Khan. The movie is often considered one of the worst movies of all time (I mean, hello. Genghis Khan?), but it bears another distinction, and that's that it's believed to be one of the deadliest movies of all time. Let me explain. It was filmed not too far away from a nuclear testing site, and a number of cast members developed cancer years later, John Wayne included. Why did I mention all this? Well, it's because in John Wayne's final movie, The Shootist, he plays an aging gunfighter with cancer. So in a lot of ways, The Shootist feels like art imitating life. It's also a fitting swansong to a legendary career.
The film concerns one John Bernard "J.B." Books (Wayne) who's been diagnosed with cancer and just wants to die peacefully. But there are those who seek vengeance for the murders Books committed back in his younger life, so he won't be able to just ride off into the sunset. It all ends in gunfire, but it's tastefully done. Ron Howard is also in the movie as a fatherless teen who looks up to Wayne's character. And Jimmy Stewart plays the doctor who diagnoses Books. A great, great movie and a legendary performance.
Stream it on Starz.
Sands of Iwo Jima – Hulu
A lot of people only picture John Wayne as a cowboy, but he also played a lot of soldiers, too. Flying Tigers, The Longest Day, In Harm's Way, Wayne was in several war movies. Some, like The Alamo, were pretty good. While others, like The Green Berets, were pretty terrible. But one of his very best war movies is Sands of Iwo Jima. In it, he played Marine Sergeant John Stryker, to which he was also nominated for an Academy Award for Best Actor.
The story takes its time in actually getting to the titular battle, but all throughout, we get to see Wayne be his steely self, leading men who dislike him for his toughness but also greatly respect him for his courage. It's a World War II film that still holds up today. And while you probably won't like it if you're only used to modern war pictures like Dunkirk that focus more on the war itself rather than the characters, it's still a worthy movie for any World War II movie-buff.
Stream it on Hulu.
Stagecoach – HBO Max, Amazon Prime
1939 is often considered the greatest year in Hollywood history, and John Ford's Stagecoach is often one of the reasons why. This was the year that also saw Gone With the Wind, The Wizard of Oz, and Mr. Smith Goes to Washington. But Stagecoach was revolutionary for a western at the time for the way the main characters were portrayed as more than just one-dimensional people. This was also John Wayne's breakout role as Ringo Kid. And from the very first shot of him with his shotgun in tow, you could tell that he was going to be a star.
The movie is actually a great ensemble film, but Wayne definitely stands out. It's about some strangers who get on a stagecoach together and go through some hostile Apache territory. Now, let it be known up front that you really have to watch this from a historical perspective (like most older films), since Ringo Kid, who has broken out of prison, is seen as a hero, while the Native Americans are portrayed as savages. But if you can get past the blatant racism (And I know. It's hard), then you will have a world class western, and definitely one of Wayne's best.
Stream it on HBO Max or Amazon Prime.
Red River – Starz
The highest grossing film of 1948 and nominated for two Academy Awards, Howard Hawks's Red River featured John Wayne in his "darkest" role (So says the trailer) at the time. This was prior to his performance in The Searchers, of course. How good was John Wayne's acting in Red River? So good, that it's said that John Ford, who had worked with Wayne in the past, said "I never knew the big son of a bitch could act!"
Red River is about a ranch man named Thomas Dunson (Wayne) who wants to drive his herd miles across the country, but he faces problems along the way. Dunson is a man consumed with grief after his love died many years ago from an attack by Native Americans, and Wayne's performance is haunted throughout. As Ford said, the son of a bitch could act!
Stream it on Starz.
How the West Was Won – HBO Max
How the West Was Won is not for everyone, and it's not really a John Wayne film, per se, since it's a sprawling, three-hour epic starring the likes of James Stewart, Debbie Reynolds, Gregory Peck, and pretty much everybody under the sun. This is the It's a Mad, Mad, Mad, Mad World of Westerns. The Avengers: Infinity War of horse operas. In other words, it's not just a one-man pony show.
John Wayne's part isn't large but it's memorable. He is in the Civil War section, which is directed by John Ford, and he played real-life Union soldier, William Tecumseh Sherman. I'd be lying if I said he deserved any sort of award for his portrayal here, since he's kind of just going through the motions of the typical tough guy. But his presence was always welcome, even if it was just a small part.
Stream it on HBO Max.
The Long Voyage Home – HBO Max
An early and somewhat obscure John Ford film, The Long Voyage Home is based off a series of plays by Eugene O'Neill. It's about a ship of alcoholics who want to have fun but World War II is approaching.
John Wayne plays a former farmer named Ole Olsen who wants to see his family again in Sweden. What's great about this one is that John Wayne doesn't play the every man tough guy this time. Instead, he plays a character who is actually a little sweet and very much yearning. Watch this one if you want to see a different kind of John Wayne movie.
Stream it on HBO Max.
Rio Bravo – HBO Max
I am including Rio Bravo on this list because it is a celebration of John Wayne, but I'm not a huge fan. Don't get me wrong, Rio Bravo is a good John Wayne movie. A great one even. But its main purpose was to be a sort of counterpoint to the brilliant High Noon, which both its director, Howard Hawks (who made the far superior Red River), and John Wayne thought was "un-American."
The stories are similar, but this time, the sheriff, played by Wayne as John T. Chance, isn't begging for help. Instead, he's going to take on his threat head-on with the aid of others who want to help him. Dean Martin is also in the movie as a drunk named Dude, and he's enjoyable enough. Again, it's a good film, but I'm not pleased that it was mostly made to take a dump on my all-time favorite western, High Noon.
Stream it on HBO Max.
The Searchers – HBO Max
Undoubtedly John Wayne's best movie and possibly the greatest western of all time (I'm still riding with High Noon, though), The Searchers is John Wayne's darkest movie. He plays a Civil War veteran named Ethan Edwards who is searching for his niece after a Comanche raid destroys her home and abducts her. There is a lot of suggestive themes—like rape—that pervade the picture, and John Wayne has never played a more troubled character.
From top to bottom, The Searchers is an American classic with an ending that will leave you both sniffling and wondering at its circular nature.
Stream it on HBO Max.
True Grit – Amazon Prime
The movie that got John Wayne his first (and only) Academy Award, True Grit may be John Wayne's most popular movie. Wayne plays U.S. Marshal, Rooster Cogburn, an old man called in by a young woman to apprehend the man who killed her father. The movie works because he's joined by the daughter (played by Kim Darby), as well as a Texas Ranger named La Boeuf (played by Glen Campbell). There's some great dialogue from the Duke, as well as that excellent scene toward the end where he rides his horse with the strap in his teeth. It's not my favorite John Wayne movie, but it's probably the one I've seen the most.
There was a great remake by the Coen Bros. starring Jeff Daniels filling in as Cogburn. But while he does an admirable job, the original just proves that nobody could replace the Duke. Not even the Dude!
Stream it on Amazon Prime.
John Wayne might seem old-fashioned by today's superhero standards, but once you get into his slow drawl rhythm and his tough-guy persona, it's kind of hard not to be a fan of the Duke. Hopefully, more of his classics will be streaming again, but for now, these are the best that the internet has to offer.
This poll is no longer available.
Your Daily Blend of Entertainment News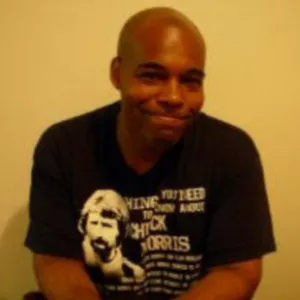 Rich is a Jersey boy, through and through. He graduated from Rutgers University (Go, R.U.!), and thinks the Garden State is the best state in the country. That said, he'll take Chicago Deep Dish pizza over a New York slice any day of the week. Don't hate. When he's not watching his two kids, he's usually working on a novel, watching vintage movies, or reading some obscure book.