The Wizard Of Oz And 12 Other Classic Movies Streaming On HBO Max Right Now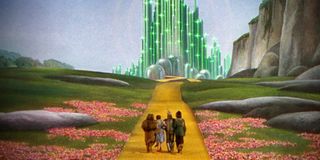 HBO Max has finally made its big premiere. While it's easy to groan at the prospect of yet-another streaming service (I've certainly been there), if you're a film lover, there is definitely a lot worth considering here. Indeed, the site contains hundreds of movies available at the mere click of a button, including a surprisingly huge archive of great movies and bonafide classics. If you love classic movies, and you're looking for something good (or even great) to watch on HBO Max, we're here to help. Here are just a few of the classic movies available on HBO Max, including The Wizard of Oz.
The Wizard Of Oz (1939)
Somewhere over the rainbow isn't too far away. Indeed, 1939's The Wizard of Oz is one of the most beloved and cherished family movies in cinematic history, and it's not hard to see why. With its lovable batch of characters, dazzling visuals, enchanting world-building, catchy songs, and big heart, this fantasy musical adaptation of L. Frank Baum's 1900 children's book is considered one of the greatest movies of all-time. And deservedly so. It's one of the most magical movies ever made, and audiences both young and old continue to love it to this day. There's no place like home, and thanks to HBO Max, you can now stream the adored movie from the comfort of your own home — whether that's Kansas, Oz, or anywhere in-between.
Stream The Wizard of Oz on HBO Max here.
Casablanca (1942)
When Casablanca geared into production, nobody involved thought it would be anything more than another studio movie. Something that would end up lost in the sea of hundreds of movies produced throughout the years. To say the opposite happened would be an incredible understatement. 1942's romantic WWII drama isn't merely great; it's widely considered one of the finest films ever, notably with a rich screenplay, top-notch cinematography, striking locales, and iconic performances from Humphrey Bogart and Ingrid Bergman. Not to mention some of the most well-quoted lines in cinematic history. This Best Picture-winning masterpiece isn't merely one of the finest Hollywood films of the '40s. It is arguably one of the best films ever made.
Stream Casablanca on HBO Max here.
Citizen Kane (1941)
Few films tower above Citizen Kane. Orson Welles was only 25 when he made this epic drama about the life-and-legacy of Charles Foster Kane (based heavily on William Randolph Hearst and Joseph Pulitzer, among other famous figures and tycoons) is quite often considered not merely one of the best movies of all-time but arguably the best. Certainly not a bad achievement for your first major film. While the movie itself was met with controversy upon release, it has since received an abundance of acclaim, not merely for Welles' work in front-and-behind the camera but also for its stunning cinematography, incredible make-up, sharp editing, thunderous score, and adventurous narrative structure. It's a film that's been studied and discussed endlessly. If you haven't seen it (or want to revisit it), it's available on HBO Max.
Stream Citizen Kane on HBO Max here.
City Lights (1931)
There are a treasure trove of classic Charlie Chaplin movies. Many of which are available on HBO Max, including Modern Times, The Great Dictator, The Kid, The Gold Rush, and 1931's City Lights. Made during the rise of sound films, Chaplin opted to keep his silent film format for this silent romantic comedy, which follows the misadventures of The Tramp falling in love with a blind woman, though it was the first time Chaplin composed the score to one of his pictures. Although it's hard to pick one's favorite Chaplin film, City Lights is often considered one of his best — if not his best — among film historians and casual moviegoers. If you're in the mood to catch up or revisit some classic Charlie Chaplin movies, including this one, go to HBO Max.
Stream City Lights on HBO Max here.
Bicycle Thieves (1948)
If you've ever taken a film school class, there's a good chance that you've seen Bicycle Thieves at least once or twice. The Italian neorealist drama from director Vittorio De Sica is a simple-yet-deeply affecting tale of a poor father post-WWII on the search for his stolen bicycle, which was the main source of his livelihood. Though not always an uplifting tale, it is celebrated for its compelling character drama and its nuanced social commentary. It was initially ill-received in Italy, but in the years since its release, it has often been hailed as one of the finest movies ever made. It is another movie that has been studied constantly and discussed religiously. Certainly, if you haven't had a chance to see it for yourself, it's worth seeking out on HBO Max.
Stream Bicycle Thieves on HBO Max here.
Godzilla (1954)
Whether it's seen as a powerful political commentary on the lasting damage of Japan's nuclear holocaust or as an entertaining monster movie that has inspired a variety of B-movies and major blockbusters in the decades to follow, 1954's endearing Godzilla has certainly risen above the ranks of several other monsters movies by being a sharp, compelling commentary with a memorable movie monster who continues to remain relevant and entertaining in the years to come. While there are several entertaining additions to this franchise, none of them have truly captured the same success as this classic. And we'll continue to see its influence with this year's upcoming blockbuster, Godzilla vs. Kong.
Stream Godzilla on HBO Max here.
King Kong (1933)
First introduced to the silver screen in 1933, King Kong is certainly one of the biggest, most recognizable characters in cinematic history. The very large gorilla-like creature, one who eventually met its tragic end whenever he fell in love with a beautiful young woman, continues to be seen in new movies and in various new iterations, notably with the upcoming, aforementioned Godzilla vs. Kong set to hit theaters later this year, but it's hard to top this original. For as much as Peter Jackson's three-hour remake deserves respect, and Kong: Skull Island isn't without its fleeting thrills, the original King Kong is a wondrous achievement, with a romantic story, full action-packed sequences and some impressive stop-motion animation which brings this gigantic creature to life on the screen. If you love King Kong and you haven't seen the original, check it out.
Stream King Kong on HBO Max here.
2001: A Space Odyssey (1968)
Practically ever picture directed by the late Stanley Kubrick is a bonafide classic. Throughout several decades and across various film genres, Kubrick's unmistakable style shined bright, capturing his singular vision and creating some of the most iconic, lasting visuals in cinematic history. That's certainly the case with 1968's awe-inspiring 2001: A Space Odyssey. The space-based sci-fi blockbuster, which follows a voyage to Jupiter gone awry whenever the spaceship's sentient AI begins to have a mind of its own, features striking imagery, extraordinary special effects, a haunting score, and lots of thoughtful commentary on human's place in history and the future ahead. Kubrick's best movie is often an ongoing point of discussion, but this is certainly among his greatest triumphs. It is an extraordinary, heavily influential work of brilliance. See it on the biggest screen available to you.
Stream 2001: A Space Odyssey on HBO Max here.
Alien (1979)
In space, no one can hear you scream. But there's a good chance that you've heard of Ridley Scott's influential 1979 sci-fi horror film, Alien. The movie has inspired sequels, novels, comic books, and more, but none of them (not even the exceptional follow-up, Aliens) have ultimately captured the same intensity as this captivating space-based creature feature. Anchored by a strong lead performance from Sigourney Weaver, Alien is considered one of the best sci-fi movies ever made, and it's easy to see why. You can check it out for yourself on HBO Max.
Stream Alien on HBO Max here.
Seven Samurai (1954)
You've probably seen several movies inspired by Seven Samurai, including everything from The Magnificent Seven to A Bug's Life, but if you haven't made the time to watch Akira Kurosawa's epic masterpiece, you should definitely make the time to do so. Though it's a long sit, coming in at a hefty 207 minutes (including an intermission), it's most certainly worth every second. This movie is widely considered one of the finest foreign-language films ever made — as well as simply one of the best movies ever made, period. It's a stunning accomplishment, filled with great pathos and fight sequences, and if you've been putting it off for some time (which is a little understandable since, again, it's long-as-hell), you should make a point to check it out.
Stream Seven Samurai on HBO Max here.
Singin' in the Rain (1952)
If you haven't had a chance to sing the rain yet, you're certainly missed out. There are few movies out there more richly and wonderfully delightful than 1952's Singin' in the Rain. Though it depicts the transitional period between silent films and talkies, and three performers who are caught in the midst of this moviemaking shift, this lighthearted and winning depiction of Hollywood is splashy, exuberant, invigorated and just plain lovely. Choreographed, co-directed, and starring Gene Kelly, this immensely spellbinding movie is often considered one of the best musical movies ever made. And it's easy to see why. From its iconic scenes to its incredible dance sequences, along with its winning characters and rousing emotional beats, it's a sunny success.
Stream Singin' in the Rain on HBO Max here.
Rebel Without A Cause (1955)
The term "star-making role" can sometimes be thrown around liberally. Sometimes even hyperbolically. But one cannot overstate how much 1955's Rebel Without A Cause (as well as East of Eden, which also came out that year) turned James Dean from a promising young TV actor to a marquee name to a movie icon. Sadly, this is also the year that Dean was tragically taken from this world in an automobile accident that kept him forever young. While Hollywood has never truly recovered from the loss of such a bright and talented young actor, it's easy to see the radiant star-power in this passionate performance. What should've paved the way for a sparkly career was unjustly one of his final roles, but his spirit is still burning alive anytime someone pops this classic teen drama on their screen.
Stream Rebel Without A Cause on HBO Max here.
Nanook of the North (1922)
Though it is considered one of the earliest and one of the most prolific documentaries in cinematic history, the legacy of 1922's Nanook of the North is ultimately a little more complex. The silent film from director Robert J. Flaherty captures the struggles of an Inuk man named Nanook and his family in the Canadian Arctic, but while it's presented in a documentary format, there are several sequences that were deliberately staged, ultimately making it a docudrama by today's standards. However, the idea of blending documentary and drama wasn't prevalent at the time, thus ultimately polarizing a few critics in the years following its release. But however you look at these controversies, Nanook of the North is still considered a groundbreaking piece of cinema, capturing a vivid, intimate look at culture that's rarely seen in movies — even today.
Stream Nanook of the North on HBO Max here.
Other Great Classics Streaming On HBO Max
The following are other classic movies available on HBO Max right now...
8 1/2 (1963)
A Streetcar Named Desire (1951)
An American in Paris (1951)
Apocalypse Now (1979)
Battle of Algiers (1966)
Battleship Potemkin (1925)
Bonnie and Clyde (1967)
Breathless (1960)
Cleo from 5 to 7 (1962)
Cool Hand Luke (1967)
Doctor Zhivago (1965)
Eraserhead (1977)
Gone with the Wind (1939)
Harold and Maude (1971)
Jules and Jim (1962)
Network (1976)
Night of the Living Dead (1968)
North by Northwest (1959)
Rashomon (1950)
Safety Last! (1923)
Stagecoach (1939)
The 400 Blows (1959)
The Treasure of the Sierra Madre (1948)
Your Daily Blend of Entertainment News
Will is an entertainment writer based in Pittsburgh, PA. His writing can also be found in The Playlist, Cut Print Film, We Got This Covered, The Young Folks, Slate and other outlets. He also co-hosts the weekly film/TV podcast Cinemaholics with Jon Negroni and he likes to think he's a professional Garfield enthusiast.