How Guardians Of The Galaxy's James Gunn and Seth Green Created His 'Sarcastic' Take On Howard The Duck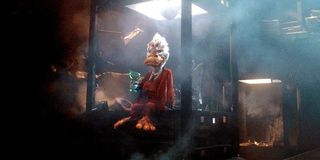 After Howard the Duck released in 1986 and famously became a huge bomb and cult hit, the character (at least in movie form) was pushed back into obscurity for a long time. That is until James Gunn and Seth Green resurrected his cinematic character in Guardians of the Galaxy for a brief, but very sarcastic cameo. But, their take was different and Seth Green explains how that happened.
Seth Green spoke with ComicBookMovie.com recently, supporting the 200th episode of Robot Chicken, and the topic of Howard the Duck came up. While Seth Green and James Gunn talked about the character, James Gunn said he wanted him to be like famous actor, Danny DeVito. Here's what Seth Green had to say about it:
Now that he mentions it, I can totally see the personality resemblance between Howard the Duck and Danny DeVito. The cynical and sarcastic approach seems to vibe pretty well with both Guardians of the Galaxy's sense of humor and the oftentimes satirical comics. And fans are hoping to see more in the future.
Seth Green, for his part, seemed to relish being a part of Guardians of the Galaxy and playing Howard the Duck. He had long known about the character and loved the new approach. Here's what he also said:
Since James Gunn brought Howard the Duck into his movie, some might assume he likes the original film, but he absolutely doesn't. In fact, he thought the character's Caucasian eyelids were creepy. Of course, James Gunn rectified this in his own version.
For a time, it looked like Howard the Duck might make a comeback in a big way. He made another brief cameo in Avengers: Endgame and a Howard the Duck TV show was in development at Hulu. Unfortunately for Howard the Duck fans, that TV project recently got scrapped since Hulu is cutting back on its relationship with Marvel.
Marvel fans wanting to see more of James Gunn's iteration of the character may have to wait a lot longer. We'll just have to see when Guardians of the Galaxy Vol. 3 arrives to complete the trilogy. Hopefully this includes another appearance by one Howard The Duck.
Your Daily Blend of Entertainment News
Thank you for signing up to CinemaBlend. You will receive a verification email shortly.
There was a problem. Please refresh the page and try again.