6 Robot Chicken Specials That Need To Happen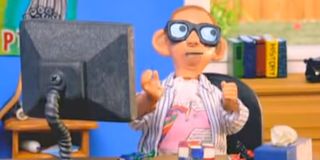 As hard as it may be to believe, Robot Chicken has been parodying the best of pop culture for a decade and a half. While it'd be hard to find any past or present pop culture franchise that hasn't been mocked by the program, only a select few have gotten the full-blown special episode chock full of skits.
The Star Wars, The Walking Dead, and DC specials were great, but given that we're approaching three years since the last one, it's high time another one be made for audiences. In the freak chance that Adult Swim is taking suggestions for the next franchise that will get its own Robot Chicken special, here are some that I think would be fantastic to use.
Star Trek
Robot Chicken has managed to squeeze three specials out of Star Wars, and yet has not given the same honor to the Star Trek franchise. You could do an entire special dedicated to every classic Star Trek series alone, though I would probably prefer Robot Chicken do the scattershot of hitting all the shows in a special to make sure there's something for everyone.
To be quite honest, it's surprising Robot Chicken hasn't done this already. That the series has already done so many Star Trek bits that reference Star Trek: The Next Generation, the original series, and even the J.J. Abrams films may indicate that the show has some Trek fans on staff. There's a deep well of lore for the Adult Swim series to poke fun at, so it should hurry before Star Trek: Lower Decks steals all the good ideas.
Marvel Cinematic Universe
Robot Chicken has done three specials on DC Comics, and while it can't be denied co-creators Seth Green and Matthew Senreich are big fans of those heroes, DC has not been the dominant comic book media franchise of the past decade. That title belongs to the world of Marvel, more specifically the Marvel Cinematic Universe. Given the sheer box office dominance Marvel has had, it's hard to believe a standalone special hasn't already happened.
With The Infinity Saga officially closed out, a Robot Chicken retrospective of all the movies that happened from Iron Man to Avengers: Endgame would be the best. I'd also say it'd work to throw the Netflix Marvel shows like Daredevil in there, if only because I need to see more content from that universe no matter how it happens. Give us a skit where Vincent D'Onofrio's Kingpin is weirdly obsessed with white walls and keeps going psycho when they're stained. I'm sure there are better ideas than that, which is all the more reason this special needs to be greenlit.
Westworld
Of all the franchises mentioned so far on this list, I'm not sure any of them take themselves as seriously as HBO's Westworld. The plot doesn't allow for humor most the time, so I can't fault showrunners Jonathan Nolan and Lisa Joy for that. I can point a finger at the Robot Chicken team for not seeing the potential comedy is poking fun at Westworld's expansive and rapidly changing franchise.
A Westworld and Robot Chicken special could give fans more stories inside the park, which wasn't seen in the HBO drama nearly as much in Season 3. Plus, let's remember there are plenty of robot jokes to be made, and opportunities for other pop culture androids to make their way into the Delos family. Imagine how much faster William's journey would've ended had The Terminator been there by Dolores' side.
The Simpsons
The Simpsons may not be the most popular adult animated comedy on television anymore, but it's more than fair to say it paved the way for most adult animated comedy regardless of format. The Simpsons deserves the respect of all shows given the legacy it has built on television, so it's only right that Robot Chicken eviscerate it with a one-off special that leaves no stone unturned.
I think Robot Chicken would be the perfect show to parody The Simpsons, if only because its wheelhouse is the type of comedy the Fox series tends to stray away from. The biggest question I would like to see Robot Chicken figure out is how the people of Springfield cease to age even though Springfield continues to modernize with the times. I'd also just be fine with small skits that focus on lesser characters like Herman Hermann or Bumblebee Man. Out of all the entries on this list, this is certainly the one I see the most potential in.
Game Of Thrones
Season 8 of Game Of Thrones was a bummer and, in my opinion, so controversial that it helped the world forget how much the HBO show meant to them over the years. The fact of the matter in my book is that Game Of Thrones was a great show 90% of the way through, and while Robot Chicken has parodied it a fair amount, there's still plenty of ground left to tread in the main series alone.
With the whole series completed, there are some extra jokes to mine in events that in hindsight meant absolutely nothing. There's also an opportunity to make some elaborate and expensive sets for sketches, which is something I haven't seen in Robot Chicken often. We need something to remind the world why they loved Game of Thrones. Considering we can no longer rely on George R.R. Martin to deliver books promptly, this Adult Swim series may be our only hope.
Classic Adult Swim Shows
Adult Swim has become the home for many off-kilter live-action and animated comedies over the years, Robot Chicken being one of them. It would be great to see Robot Chicken honor the history of its home base, and run through sketches with the shows that served as the backbone of the network way back when.
Space Ghost: Coast To Coast, Aqua Teen Hunger Force, Harvey Birdman: Attorney At Law, The Venture Bros. and so many others don't always get the credit they deserve, and a special via Robot Chicken could serve as the perfect roast of sorts to celebrate them all. Sure, Adult Swim would probably still bar Metalocalypse from being used in any way, but there are plenty of other shows that could be parodied in the best way.
Robot Chicken Season 10 is currently airing new episodes on Adult Swim Mondays at midnight ET. Continue to stick with CinemaBlend for more shows airing this summer, and for the latest headlines in television and movies.
Your Daily Blend of Entertainment News
Mick likes good television, but also reality television. He grew up on Star Wars, DC, Marvel, and pro wrestling and loves to discuss and dissect most of it. He's been writing online for over a decade and never dreamed he'd be in the position he is today.