8 Alita Battle Angel Moments We're Still Marveling At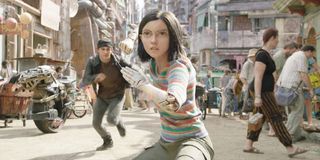 CinemaBlend participates in affiliate programs with various companies. We may earn a commission when you click on or make purchases via links.
Whether you're watching Alita: Battle Angel for the first time, or if you're returning to Robert Rodriguez's futuristic manga world, there are certain moments that stick out as marvels of cinematic wonder. A film that took several decades to exist, because of the unique visions of producer James Cameron and director Robert Rodriguez, Alita's first adventure on the big screen contains a lot of love and care in its crafting.
Out of the entire catalog of moments that Alita: Battle Angel shows off in its entirety, there are eight highlights that still have us stunned, because of the beauty, adrenaline, and world building they put into motion. It's moments like these that keep this film in the eyes of fans, as well as attract newcomers to the fold, and we're about to run down just what those scenes are, and why they're so impressive.
Alita's First Motorball Scrimmage
Opening Alita's eyes to the sport of Motorball, in all of its tense and cutthroat glory, seeing Rosa Salazar's character introduced to the sport she'll later dominate in Alita: Battle Angel is one of the earliest moments that starts to cement the film to come. In particular, her scrap with Tanji (Jorge Lendeborg Jr.), after he tries to trip her up the court, shows us just what she'll do when it comes to righting a wrong and playing to win. A fitting prelude to her professional career in that very sport.
Hugo Introduces Alita To Chocolate
Not all of the moments that Alita: Battle Angel uses to impress are made up of violence or action. In this particular instance, the scene where Hugo (Keean Johnson) introduces Alita to the simple joy of a chocolate bar is an emotional beat that really sells the human part of our cyborg protagonist's journey. Her first experience with something as simple as this confection shows the true personality behind the young warrior we're about to see head into action, and it sells the journey all the better. Also, that looks like one hell of a chocolate bar.
The Kansas Bar Fight
"I will not stand by in the presence of evil." That key phrase is one of two pieces of dialogue in Alita: Battle Angel that really nail down how important the conflict between Alita and Nova's favorite assassin Grewishka (Jackie Earle Haley) is to the center of the film. It comes after Alita instigates one hell of a fight in Iron City's hunter-warrior bar Kansas, and that fight itself is exciting to watch as it morphs from a challenge to take on the gigantic cyborg villain to a one-on-one battle between Alita and her target. Not to mention, it's an important moment that shows how Alita's not going to wait for permission or backup if she sees an injustice to be corrected.
Alita Rejects Grewishka's Mercy
Alita seriously gets her ass kicked by Grewishka in the ensuing fight that takes their grudge match into the underground venue Alita: Battle Angel shows off. Though she puts up a hell of a fight, it gets to the point where all that's left of her is her torso, her head, and one arm. But if you're a Battle Angel, that's right where you want the enemy to put you. Seeing Alita use her arm strength to flip and lunge at Grewishka, letting her get in one of the most devastating attacks of the PG-13 rated film, is a blast of action that always satisfies. It also leads to one of the most powerful PG-13 profanities ever, as she spits "Fuck your mercy" in his face, with her arm still implanted in his eye socket.
Demonstrating The Berserker Armor
If it wasn't for her gigantic fight with Grewishka, Alita may have never gotten to use the Bersekrer body that she recovered during a very crucial piece of exploration in Alita: Battle Angel. Dr. Ido (Christoph Waltz,) previously refusing to allow his surrogate daughter to use this body and its weaponized potential, was forced to let this particular happening come to pass. Alita goes on to demonstrate the amazing power and utility of her new body, but Ido tenderly reminds her that with such power comes a responsibility to use it wisely. Again, Alita: Battle Angel balances the action adventure of its protagonist's journey with a very grounded, very human heart.
Alita Offering Her Heart To Hugo
The love story between Alita and Hugo feels like another one of those touches that proves Yukito Toshiro's original manga, Gunnm, was always meant to be on the big screen. Their romance, even though it is bittersweet in hindsight, is built on a true affection that has Alita offering her own cyborg heart to the guy she loves. Even though the offer came after Hugo revealed he was trying to get to Zalem through a steady savings of cash, and in spite of the fact that she'd have died if he actually took her up on the offer, Alita is ready to give her own life for someone else's dream. Her physical heart may fit in her hand, but Alita's metaphorical heart is endless.
Surviving Motorball, Battle Angel Style
Before the really bitter part of her romantic arc starts to kick in, Alita finally gets her chance to play the sport she's always loved. The only problem is, Vector (Mahershala Ali) has the game rigged in favor of the demise of Alita – a fast developing thorn in the sides of himself and the mysterious Zalem overlord known as "Nova." Showing off all of her skills, Alita: Battle Angel's gigantic action set-piece shows why pulling Motorball from the later volumes of Gunnm was an excellent idea, as it builds the mythos of the game with the film's audience, and allows the final arc of the movie's story to take the turns needed to cement the confrontation to come.
Alita Calls Her Shot In The Arena
At the end of Alita: Battle Angel, Alita has lost Hugo, but taken out Vector and Grewishka in the process. As Vector lays dying, the mysterious Nova (Edward Norton) ensures that their conflict is far from over. Still heartbroken over her loss, Alita is given motivation to become Final Champion, and to have a rematch with Nova on his home turf in the floating city above. It's a moment that ties all of the themes of Alita: Battle Angel together, with a final gesture that hypes the crowd up for another installment. Her sword raised, with a crowd chanting her name, it acts as both the perfect finale and the best starting point for future adventures, just as Robert Rodriguez intended.
There are tons of individual moments that any fan of Alita: Battle Angel could single out as showstoppers; but the ones included above are those that truly display this film's journey of self-discovery and heroism in the most memorable light. If this has motivated you to revisit Alita: Battle Angel, you can revisit the film for yourself on digital HD, 4K UHD, Blu-ray, and DVD. Or, you could head over to HBO Max, and take advantage of their 7-day free trial, to stream the action in your own home today.
Your Daily Blend of Entertainment News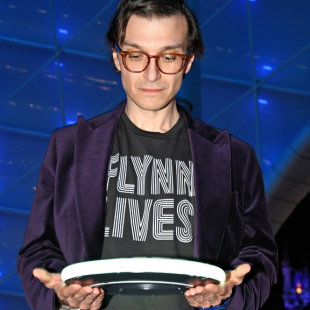 Senior Movies Contributor
CinemaBlend's James Bond (expert). Also versed in Large Scale Aggressors, time travel, and Guillermo del Toro. He fights for The User.