Jada Pinkett Smith Explains Why Her Affair Wasn't A 'Transgression'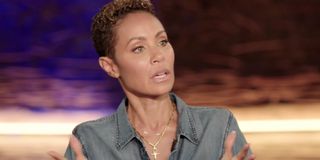 Even though Jada Pinkett Smith's affair with August Alsina occurred years ago, it only recently made headlines. According to Alsina, he and Pinkett Smith had a romantic relationship with Will Smith's permission. Now, Jada Pinkett Smith explains why that the affair wasn't a transgression, with Will also clearing up the situation.
While addressing the affair on her online talk show Red Table Talk, Jada Pinkett Smith and Will Smith went back and forth on their take over the whole thing in hopes to clear the air. At one point in the discussion, Jada Pinkett Smith said the affair wasn't a transgression. After all, she and Will were separated at the time she began dating August Alsina. Pinkett Smith went on to explain her thoughts, saying:
While reports surfaced years ago about Will Smith and Jada Pinkett Smith's troubled marriage, it was only recently on June 30th that singer August Alsina admitted on the radio to having a romantic relationship with Pinkett Smith. Shortly after, Jada Pinkett Smith decided to bring herself to the Red Table and clear up any misconceptions.
For Will Smith, he agreed to come to the Red Table as well because he was seeing things in the headlines that weren't true. He wanted to set the record straight. He also wanted to make clear that this was something far in the past and not something that happened recently. Here's what the actor said later:
Will Smith and Jada Pinkett Smith have been married for over 20 years. Though they might define it differently. They've admitted they don't call themselves married anymore, but "life partners" where you get in your head there are no deal breakers.
But while they seem committed to each other, in April (before the affair headlines) Jada Pinkett Smith admitted she didn't know longtime husband Will Smith at all. She went on to explain that there are stories in your head about your partner that end up not actually being who your partner is. Marriage is complicated, but the Smiths' issues are public due to their fame.
They've both had to address plenty of rumors and headlines about their marriage over the years, and this is just one more to address. Though, it seems like a smart idea for them to tackle it head on rather than try to avoid it. What's more, Will and Jada Pinkett Smith seem to be in a good place now.
Your Daily Blend of Entertainment News
Thank you for signing up to CinemaBlend. You will receive a verification email shortly.
There was a problem. Please refresh the page and try again.