Jada Pinkett Smith Says She's Not A Scientologist, Despite What Leah Remini Says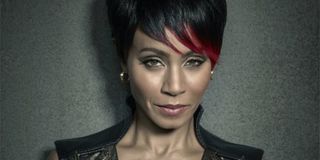 Recently, Leah Remini has made headlines for talking about celebrities whom she believes are in the Church of Scientology. Now Jada Pinkett Smith, one of the stars Remini asserts is a Scientologist, has set the record straight. In response to Remini's claims, Pinkett Smith turned to social media to explain her holistic approach to studying world religions. She used the occasion to deny being a member of the religion founded by author L. Ron Hubbard.
In fact, Jada Pinkett Smith tweeted that she had studied Dianetics, a set of practices in Scientology. She also acknowledged having respect for Study Tech, a pedagogical technique by L. Ron Hubbard. Still, Pinkett Smith maintained that she is not a Scientologist, noting,
Then Jada Pinkett Smith closed with the hard-hitting statement:
Those powerful words were part of a string of tweets that helped Jada Pinkett Smith to make her point. She also gave examples of other times when she shared in the customs of religions not her own. The 46-year-old Girls Trip actress tweeted about lighting Shabbat candles with Rabbi Bentley of Temple Sinai despite not being Jewish. She said she had prayed in mosques despite not being a Muslim. Pinkett Smith stated she had read the Bhagavad Gita even though she is not a Hindu, and she had chanted and meditated in Buddhist temples even though she is not a Buddhist.
While Leah Remini has yet to respond in a direct way to Jada Pinkett Smith's string of tweets, she did reply to a couple of Twitter users who commented on them. In one reply, Remini said she did not realize Pinkett Smith had a problem with people calling her a Scientologist. Then Remini clapped back at a different Twitter user for calling her a bully over the issue.
Leah Remini is not the first person to connect Will Smith and Jada Pinkett Smith with Scientology. Nevertheless, she did call them out in a rather unusual anecdote in her book, Troublemaker. The Kevin Can Wait actress wrote that she and the Smiths were among the guests at a party at Scientologist Tom Cruise's house some years ago when a seemingly clandestine game of adult hide-and-seek transpired.
Jada Pinkett Smith later denied the story on an episode of Watch What Happens with Andy Cohen. Pinkett Smith said the game was for the kids at the party. However, later reports said Remini contradicted Pinkett Smith's explanation and said there were no children at the event. She asserted that Pinkett Smith was in the Church of Scientology, and she had often seen her at the Scientology Celebrity Centre. For proof, Leah Remini pointed to the New Village Leadership Academy, a private institution Will Smith and Jada Pinkett Smith set up in the late aughts and closed in 2013. Reportedly, the school implemented strategies of Study Tech.
From the sounds of it, Jada Pinkett Smith is a student of world religions. Her movie-star husband has made similar statements. He told the New York Daily News in 2008,
Leah Remini has become outspoken about her experiences growing up in the Church of Scientology. She talks about the intense difficulty she faced trying to quit Scientology, and her documentary, Leah Remini: Scientology and the Aftermath, won an Emmy this year. It is important for Remini to speak her mind, as she has strong feelings about the subject. At the same time, Jada Pinkett Smith's response was sophisticated and bold. We'll have to stay tuned to see what they say next.
Your Daily Blend of Entertainment News