Stella Meghie: 7 Interesting Things To Know About The Photograph Director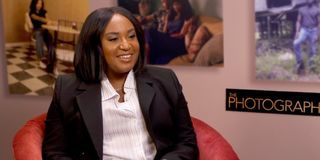 In the last five years, Stella Meghie has directed and written some of the most interesting films centered around black women. She made history in 2017 by being the only black female director to have a project at a major studio. This film was Everything, Everything, a teen romance movie based on Nicola Yoon's best selling young adult novel of the same name that starred Amandla Stenberg and Nick Robinson. In 2020, Meghie once again gained attention by making The Photograph, a romantic drama featuring two promising young actors, Issa Rae and Lakeith Stanfield.
Meghie has a small, but powerful filmography. Currently, she has only directed a few major films and episodes of Grown-ish, Insecure, and The First Wives Club. With each new project, Stella Meghie shows more confidence, character, and technique as she creates her own style, aesthetic, and storytelling abilities. She's definitely a filmmaker to watch.
Stella Meghie's life and career are just as fascinating as her body of work. Let's get to know The Weekend director.
She Is A Jamaican Canadian
Meghie's parents migrated from Jamaica to Canada. She was born and grew up in Toronto. Her Jamaican roots very much play into her movies' characters. Her first film, Jean of the Joneses, tells the story of Jamaican-American women and takes influence from her own life growing up surrounded by strong opinionated women.
In various interviews, including one with The Treatment podcast, Meghie discussed the bluntness of the Jamaican women in her household, and how that helped inspire some of the comedy in movies like Jean of the Joneses. Meghie also shared that she depicts middle-class black families because that is how she grew up in Toronto. In an interview on the Complex podcast Watch Less, she discussed how as a Canadian, she'll always be a Drake supporter.
All Of Her Original Films Take Personal Elements From Her Life
As the saying goes, "write what you know," and like many great filmmakers, Stella Meghie follows that rule when writing original film material. Jean of the Joneses utilized parts of Meghie's family life, and the film was even named after one of her aunts--information that she shared on the Watch Less podcast. She also likes to portray generational stories in her films because she grew up knowing her great grandmother and grandmother. It was all part of her norm.
The Weekend is a film starring comedian Sasheer Zamata, and it is about a woman who ends up being stuck at her mother's bed and breakfast with her ex-boyfriend, his new girlfriend, and a handsome stranger. Meghie mentioned how she identified with Zamata's character Zadie and how her mother owns and operates a bed and breakfast, another bit of info that she revealed on the Watch Less podcast.
For The Photograph, Meghie has stated that this was the least personal of her movies, but it was inspired by her grandmother who was reunited with a daughter she gave up when she was young. Stella Meghie shared this information in various interviews but went into detail in her interview with Oprah Magazine. The daughter went to live with her father in London, and Meghie's grandmother didn't see her daughter again for over 30 years. She twisted those story elements and turned them into the idea behind Issac (Y'lan Noel) and Christina (Chanté Adams )'s love story. The idea Meghie used from her grandmother's experience is thinking about someone every day but not being able to be with them.
She's A Trekkie
Stella Meghie is a Trekkie, a dedicated fan of the Star Trek franchise. When Miami New Times asked, "What is something people don't know about you that would surprise them?" Stella Meghie answered that she's a Trekkie. She then went on to explain that she had just started Picard and that her favorite series was the Next Generation. She also added that Data (Brent Spiner) was her favorite character.
On the Watch Less podcast, Meghie further explained that during the coronavirus pandemic, she was watching old episodes of Star Trek and even going to bed watching them.
Love And Basketball And Love Jones Influenced Her Films
Throughout many interviews with Stella Meghie, she shared the films that influenced her the most. Two of those movies were Love and Basketball and Love Jones. She mentioned that she has seen Love Jones so many times, and pieces of the movie found its way into The Photograph. However, in a Variety interview, she made sure to distinguish that Love Jones and The Photograph are two different films.
What all three films have in common is their portrayal of black love on the big screen, so it's easy for fans of the movies to compare them. Meghie discussed on the Shondaland website the importance of showing diversity in her films.
She Used To Work In PR And Fashion
There is a reason why Meghie's characters look so fashionable: she used to work in fashion in the PR department. In Deadline's New Hollywood podcast, she shared how she used to work in PR and fashion before making the transition to film. She first worked as an intern at Def Jam, and then worked for both Brooks Brothers and Women's Wear Daily (WWD).
She discussed how she really wanted to go into film, so she applied to a bunch of schools in London because she missed the deadline to apply for ones in New York. Once she got into the University of Westminster, she quit her job and lived in London for three years.
She Isn't A Romantic
In an interview on CBC q? podcast, Stella Meghie shared that she's isn't a romantic. She claimed that she's far less sentimental than the characters that she writes. However, Meghie said that she loves romance when it's fictionalized. It's just not a part of her daily life.
She Loves Jazz
Stella Meghie often talks about her love for music, and how she really loves jazz because it's old school and timeless. In anther Variety interview, she shared how important The Photograph soundtrack was to her, and the process of making it.
Stella Meghie currently has another project with Issa Rae in the works called American Princess. The project seems to be in production limbo. It was also recently announced that she's set to direct the new Whitney Houston biopic. Stella Meghie is an admirable director, screenwriter, and filmmaker. I'm excited to see how her career continues to develop and grow. If you're interested in seeing any of her films, some are available to stream on Hulu, Tubi, and available to rent or purchase on VOD.
Your Daily Blend of Entertainment News
Spent most of my life in various parts of Illinois, including attending college in Evanston. I have been a life long lover of pop culture, especially television, turned that passion into writing about all things entertainment related. When I'm not writing about pop culture, I can be found channeling Gordon Ramsay by kicking people out the kitchen.
Your Daily Blend of Entertainment News
Thank you for signing up to CinemaBlend. You will receive a verification email shortly.
There was a problem. Please refresh the page and try again.