Black Panther 2 Fan Art Has Us Imagining Janelle Monae Playing Storm In The Sequel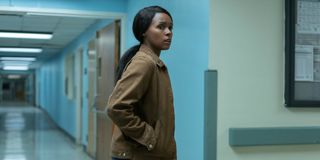 Now that 20th Century Fox is part of the Disney entertainment empire, that means that the X-Men can finally be incorporated into the Marvel Cinematic Universe. It's hard to say exactly when mutants will start popping up in this franchise, but recently, singer/actress Janelle Monae said it's her dream to play longtime X-Men heavyweight Storm, possibly in a Black Panther movie.
Should you find yourself intrigued by this casting prospect, one fan artist has taken it upon themselves to envision what Janelle Monae playing Storm would look like opposite Chadwick Boseman's T'Challa in Black Panther 2. Take a look:
That's quite the good-looking duo. Considering how Janelle Monae has built a solid resume of film and TV work in recent years, from Hidden Figures and the upcoming Antebellum to the Electric Dreams anthology series and Homecoming Season 2, perhaps that means she could be legitimately considered to play Storm in the MCU. If that were to happen for Black Panther 2, Instagram user Yadvender Singh Rana has mocked up Monae's Storm rocking the character's iconic mohawk from the comics and standing in front of a dignified, cloak-wearing T'Challa.
Debuting in 1975's Giant-Size X-Men #1, Storm, born Ororo Munroe, has the ability to manipulate the weather, which has helped her mutant cohorts out of many a jam and resulted in her being worshipped by an African tribe as a goddess before she became a superhero. Halle Berry first played Storm in Fox's X-Men film series across the first three movies and X-Men: Days of Future Past, while Alexandra Shipp played a younger version of the character in X-Men: Apocalypse, Dark Phoenix and a quick Deadpool 2 cameo.
While Storm is best known for her time among the X-Men, the mid-2000s saw her marrying Black Panther, with a flashback showing how Ororo and T'Challa had become acquainted with one another in their younger years. As a result, Storm served as Queen of Wakanda for a handful of years, although their marriage was annulled during the Avengers vs. X-Men crossover event.
Considering how closely most people associate Storm with the X-Men, introducing her to the MCU through Black Panther 2 could be a cool way to spice things up. Whether Janelle Monae were to play the character or someone else, maybe the MCU's version of Storm crosses paths with T'Challa before she joins the X-Men. Even if the cinematic versions of the characters don't become romantically intertwined, her weather powers would certainly come in handy against whoever the adversary for the sequel ends up being.
As things stand now, aside from Chadwick Boseman reprising T'Challa, the only characters who are confirmed to return for Black Panther 2 are Letitia Wright's Shuri, Danai Guira's Okoye and Martin Freeman's Everett Ross. Behind the camera, Ryan Coogler has returned to direct and write the screenplay, but no specific plot details for the sequel have been revealed yet. Rest assured though, we here at CinemaBlend will keep you apprised of any news on the Black Panther 2 front, including if Storm, or any other fan-favorite mutant (like Namor the Sub-Mariner), is added to the lineup.
Black Panther 2 will drop in theaters on May 6, 2022, and learn what other MCU movies are coming up with our handy guide.
This poll is no longer available.
Connoisseur of Marvel, DC, Star Wars, John Wick, MonsterVerse and Doctor Who lore. He's aware he looks like Harry Potter and Clark Kent.
Your Daily Blend of Entertainment News
Thank you for signing up to CinemaBlend. You will receive a verification email shortly.
There was a problem. Please refresh the page and try again.