Mark Wahlberg Is Doing Weird Exercises To Grow Muscle And I Can't Look Away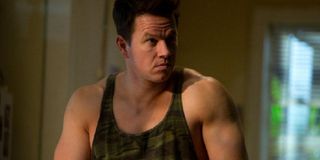 For most of us, a workout might mean doing some standard push-ups, sit-ups, and a brisk jog outside. But not for Mark Wahlberg. To grow muscle, the two-time Academy Award-nominated actor and action star takes things to the next level by doing some pretty weird exercises.
Other than acting and being part of the Wahlburgers restaurant franchise, Mark Wahlberg is well known for his intense workouts. So he recently took to social media to show what strange workouts he's been doing along with the equipment he uses to get serious gains. Check it out:
Wow, that looks like an incredibly complicated and difficult workout. I honestly haven't heard of half of that exercise equipment before. But since this is Mark Wahlberg we're talking about, I guess I shouldn't be too surprised he's taking his workouts to this level.
Mark Wahlberg is currently set to star alongside Tom Holland in the archaeological adventure movie Uncharted, based on the video game of the same name. With a workout reputation like Mark Wahlberg's, Tom Holland certainly has felt the pressure to hit the weights. Tom Holland recently tagged Mark Wahlberg on social media showing his ripped body and saying, "when working with Mark Wahlberg, you gotta get after it!"
Of course, it's not just the weights and the exercise that's important, but also the diet. If you thought Mark Wahlberg's exercises were weird, you might want to sit down for the diet. Back when he was doing Transformers: The Last Knight, he revealed a totally crazy diet that involved an egregious amount of food.
Though that doesn't mean Mark Wahlberg always bulks up when taking on roles. On several occasions he's lost a ton of weight to fit the role. For Spenser Confidential, Mark Wahlberg lost 10 pounds in five days. To do that, he ate only bone broth and steamed vegetables with a little bit of protein.
He lost even more weight for his role in The Gambler, shedding a total of 60 pounds. The drastic weight loss for the role caused his lips to frequently turn blue on the set.
Actors taking on hardcore workouts has become something of a trend lately, especially with the incredible popularity of superhero movies. Though unlike Mark Wahlberg, many of these actors are hopping into this lifestyle for the first time, pushing themselves outside their comfort zones in the process. For instance, comedian and actor Kumail Nanjiani shared the intense workout and diet he's been on to achieve a ripped physique for his role in Marvel's The Eternals.
On the other hand, in line with Mark Walhberg, fellow actors Dwayne Johnson and Chris Hemsworth have been fitness geeks for a while and share their own workouts on social media on the regular. Perhaps one day, they can all do a competition for the weirdest workout routines with equipment few people have heard of.
Your Daily Blend of Entertainment News