Looks Like Tom Cruise's Space Movie Is Taking Another Big Step Forward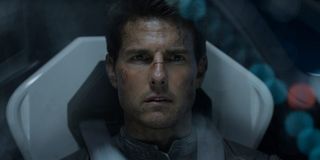 Back in May, we learned the surprising news that Tom Cruise would be taking the next leap forward in cinematic history and being the first man to star in a movie filmed in outer space. Now, it sounds like that project is more and more becoming a reality with another big step in production. Here's the latest.
Variety reports that Tom Cruise and director Doug Liman are in talks with Universal Pictures to produce the space movie. Since filming in space could be a daunting task, it's no surprise the budget is reportedly set at $200 million. Tom Cruise could earn somewhere in the ballpark of $30 to $60 million dollars, covering his services as a star and producer.
Details about the story are scant, but we do know that it'll be an action-adventure film. To get the movie literally off the ground, Tom Cruise is partnering with both Elon Musk's SpaceX program and NASA. NASA, for their part, seems rather excited to help Tom Cruise make this movie project a reality. They will host the movie project aboard the International Space Station and hope it will inspire a new generation of future engineers and scientists.
Shortly after the news broke about the space project, it was announced that director Doug Liman had been tapped to helm the wheel. Doug Liman and Tom Cruise have worked together before on the set of Edge of Tomorrow and American Made. So, they have a solid working relationship going in.
It's hard to say how large the scale will be for this space movie, but considering the tight conditions on the ISS, it seems unlikely they would include a big cast. Still, if they need a co-star, Simon Pegg has come out saying he'd love to venture into space. The two Mission: Impossible co-stars clearly work well together, so we'll just have to wait for more information.
Excitement aside, it can't be said enough how difficult this project will be, mostly because of the constraints of the ISS, but also because you have to fly a movie crew up to the space station, film in a tightly constrained environment, find a solution to the poor audio, and move around the hazardous space station. Not to mention, they're going to all have to learn how to use the bathroom up there. The task at first blush seems insurmountable.
Tom Cruise seems more than up for the challenge, though. The Hollywood star has become well-known for the amount of time, energy, and training he puts into all his stunt work. And with every stunt, he seems to want to dial it up a notch.
At this rate, if this space movie is a big success story, one can only imagine the sequel will involve going to the moon.
Your Daily Blend of Entertainment News