Brie Larson Shares Captain Marvel Throwbacks On Anniversary Of Her Casting Announcement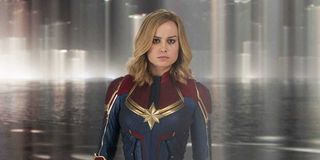 Captain Marvel hit theaters nearly a year and a half ago, but Brie Larson's journey as Carol Danvers began long before that. So we can't blame her for feeling a little bit sentimental about the whole experience on the anniversary of her casting announcement -- especially since she commemorated it by sharing some awesome behind-the-scenes photos.
The world officially learned that Brie Larson would play Captain Marvel on July 23, 2016. The actress appeared at San Diego Comic-Con with many of her other superhero counterparts at the Marvel Studios panel, cementing her place in cinematic history before she even officially appeared on screen as Carol Danvers.
On Friday, Brie Larson acknowledged the anniversary on Instagram, sharing a sweet message and a series of fun photos. Take a look at the anniversary message below:
Through Brie Larson's photos, we get to see a much different side of being one of the world's most famous superheroes. In one photo, she's making a funny face while her Captain Marvel helmet is being placed on her head. In other photos, she shows off special mementos and moments from when the cameras weren't rolling. There are even a couple of photos devoted to some of her favorite Captain Marvel-themed swag (we could all use some of that hand sanitizer right now). It's clear from the photos and the message she shared that her time in the MCU has meant a lot to her.
Of course, none of this means Brie Larson is bidding adieu to the Captain Marvel franchise. In fact, it's more likely that her tenure in the MCU is only just beginning. Thus far, she's made two appearances in the franchise. She debuted in Captain Marvel in March 2019, which was a huge success, pulling in over $1 billion worldwide. Then a few months later, she appeared in Avengers: Endgame, which did pretty okay at the box office, too.
After proving she could make bank, followed by months of speculation, we learned that there is definitely a sequel in the works and that it's due to hit theaters in 2022. While there aren't many details yet about what we can expect in Captain Marvel 2, Brie Larson's continued commitment to staying in absolutely incredible shape proves that she's ready to start production whenever the call comes. There's also nothing preventing her from appearing in other Phase 4 and Phase 5 Marvel movies, though we haven't heard anything official on that front, either.
In the meantime, Brie Larson seems to be happy to take the time to reflect -- not only on her special memories, but on life in general. And given her huge rise in fame over the last few years, thanks in part to Captain Marvel, it's not hard to see why.
Your Daily Blend of Entertainment News
Thank you for signing up to CinemaBlend. You will receive a verification email shortly.
There was a problem. Please refresh the page and try again.