The Star Wars Project Captain Marvel's Brie Larson Missed Out On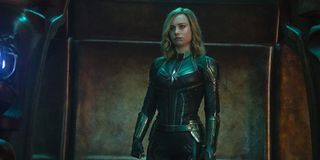 Brie Larson has been in a good number of notable movies, from Room to Kong: Skull Island to, of course, Captain Marvel. However, one of the big movie franchise she has yet to be a part of is Star Wars. As it so happens, Brie Larson tried to get in on one Star Wars project in particular, but missed out on it.
Recently, Brie Larson appeared on an episode of writer Gary Whitta's YouTube show Animal Talking, as the actress is a big fan of the video game Animal Crossing. During the interview, Gary Whitta mentioned that he worked in the Star Wars universe. In response, Brie Larson said this:
The fact that Brie Larson auditioned for Rogue One: A Star Wars Story isn't altogether surprising. She is, after all, a huge Star Wars fan, and has been eager to try to get a role in the Star Wars universe.
Earlier this month on her own YouTube channel, Brie Larson hinted that she had auditioned for a Star Wars movie, but didn't get it. She didn't say which Star Wars movie, though, so perhaps Rogue One was the only one or she auditioned for multiple roles? It's hard to say.
On top of not getting the Star Wars role, Brie Larson also revealed that she auditioned for roles in other big movie franchises, like a Terminator reboot and The Hunger Games. Sadly, she lost out on the Terminator role because of a flat tire.
Despite not getting the role in Rogue One, Brie Larson still seems adamant to end up in Star Wars one way or the other. A year ago, after we heard Kevin Feige is working on a Star Wars project, rumors sprung up that she was a contender for the starring role. Brie Larson had a perfect response on social media, posting a photo of her wearing a Jedi cloak and standing next to C-3PO.
Her campaigns to become a Jedi haven't entirely gone unnoticed either. Back in March 2019, when Brie Larson gushed in an EW story about being able to hold Samuel L. Jackson's lightsaber on May the 4th, the Star Wars official Twitter account quoted Brie Larson and said, "The Force is definitely with you, Captain."
Of course, Captain Marvel 2 has received the green light, with Brie Larson set to return as the titular character. With her being busy wrapped up in the cosmic struggles of the MCU, it's hard to imagine she'd be able to devote more time to the cosmic struggles in a galaxy far, far away, but it's not out of the question. We'll be sure to let you know if Larson ends up joining the Star Wars universe.
Your Daily Blend of Entertainment News