Beyonce's Disney+ Movie Black Is King Is Out, See What Critics Are Saying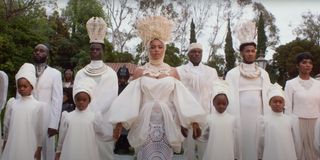 July started on Disney+ with one of the biggest releases, possibly ever for any streaming service, in Hamilton, the filmed production of the incredibly popular stage show. Now, Disney+ is ending the month with what could be an equally huge release. Black is King, is a film/visual concept album from Beyonce, based on The Gift her album from last year inspired by the remake of The Lion King. As with anything with Beyonce's name attached, interest has been quite high, but how did the film actually turn out? According to critics, it's pretty much everything people have been hoping for.
The story of Black is King, is actually a sort of live-action version of The Lion King itself, with human analogs standing in for the characters and pieces of dialogue from the remake film throughout to hold everything together, but one thing that most critics seem to agree on is that the story is incidental. Like Lemonade before it, Black is King is a creative exercise that combines visuals and music in a unique way. Black is King is ultimately about the Black experience, what the word Black means, and presenting these ideas in a way that only Beyonce is doing right now.
For the Guardian, what works about Black is King is the way the film balances its ideas so that the film never feels like it's too much. This could have become an over-produced spectacle of a film, but it's never that...
As stated, the story of Black is King in as much as there is one, is essentially the story of The Lion King itself, and while the plot takes a clear backseat to the music and creative visual storytelling, Evening Standard points out that, for some, this may be exactly the sort of content that Disney should be producing based on its existing properties. It's based on the familiar, but it's ultimately original in a way that a straight remake simply can't be...
Like The Lion King: The Gift, the album that inspired the new film, Black is King is not entirely a solo effort from Beyonce. The film contains a number of appearances, both physically and musically by others, like Jay-Z, Pharell Williams, and Lion King voice actor Donald Glover's alter ego Childish Gambino. USA Today (opens in new tab) says that this combination of talent is where Black is King truly shines...
If there's anything resembling criticism of Black is King, it's not that the film is itself bad in any way, simply that this production may not be as good as that which came before it. The Wrap speaks of Black is King in very positive terms, but ultimately says...
In the end, Black is King sort of defies traditional film reviews. One can't really critique acting performances or story decisions in quite the same way, and that's clear from some of these reviews. But in the end, what's there is without question something that should be experienced. Black is King is now available on Disney+.
CinemaBlend's resident theme park junkie and amateur Disney historian. Armchair Imagineer. Epcot Stan. Future Club 33 Member.
Your Daily Blend of Entertainment News
Thank you for signing up to CinemaBlend. You will receive a verification email shortly.
There was a problem. Please refresh the page and try again.