How Jay-Z Feels About Fixing His Relationship After Cheating On Beyonce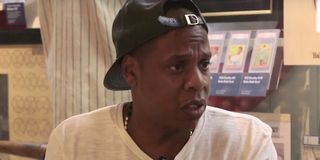 Many of Jay-Z's fans have heard the lyrical content on his latest album, 4:44, as a response to Beyoncé's Lemonade album, which suggested infidelity in the power couple's relationship. Now, in a new video, the 47-year-old rapper is opening up about the flaws in his marriage and how he worked to fix them. From the sounds of it, Jay-Z had to move mountains to get back in Beyoncé's good graces, perhaps after he snuck around with "Becky with the good hair." In the video, Jay-Z said,
The confessional is part of Jay-Z's Footnotes, and it can be seen on his Tidal platform along with 4:44. In the video, Jay-Z suggests he never had a great father figure to show him how to love his spouse the correct way. The rapper reunited with his estranged father before his father passed away in 2003, and in Footnotes, Jay-Z says he felt open to love once he met with his dad. However, he still did not have all of the means to make something of his desire to love someone else. This lack of tools and sensitivities contributed to his relationship problems down the road.
Jay-Z admits he let Beyoncé listen to the new album before he shared it with the world. He said the experience was somewhat uncomfortable. However, he explained that they are at a point in their marriage where complete honesty is crucial, and nothing can ever be false between them. In fact, he said,
The Footnotes clip is packed with other gentlemen in Hollywood, including Chris Rock, Will Smith, Michael B. Jordan, Jesse Williams, and Aziz Ansari. Throughout Footnotes, the stars discuss the complicated nature of love and relationships and what plays into how men love their spouse. For example, Jay-Z also talked about realizing he might lose Beyoncé one day. He described the moment as a sort of existential moment when he and Beyoncé were on a boat, and she had to leave. He realized that he did not want her to go, and that moment was a turning point in his love for his wife.
Luckily for Jay-Z, he and Beyoncé have renewed their commitment to each other and their marriage and family. It sounds like the parents of three both have reached a space of genuine peace.
Your Daily Blend of Entertainment News