Netflix Continues To Show The Power Of The Flop As A Kevin James Flick Is Trending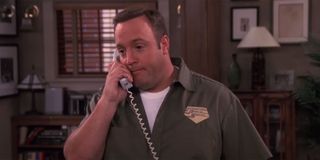 Over the last few weeks, Netflix has started being a little more transparent about which movies and TV shows its subscribers are recently watching. I say little because we don't usually have actual numbers, but we do know a terrible, horrible, no good, very bad Kevin James movie is doing very well on the streaming service this week. Behold the power of the flop on Netflix.
Zookeeper, aka that Kevin James movie where he talks with animals, is seeing a resurgence thanks to a new run on Netflix. It's actually fairly often these days that old movies suddenly see a surge in popularity; yet, in general there's a reason for those resurgences. For example, other flop Patriot's Day had a nice run on the 4th of July. Or sometimes movies do well when they recently hit the service, but in this case Zookeeper seems to have been available on the service for some time.
It's hard to tell if Netflix was really foisting Zookeeper on audiences this weekend thanks to the power of algorithms or if something else is responsible for its recent popularity, but given a bunch of releases are coming to the streamer in August, Zookeeper's win is a little bit of a surprise. This week Netflix added a couple of the Ocean's movies, the Jurassic Park trilogy and A Knight's Tale, but perhaps people were looking for something to watch with the kids?
In any case, when Zookeeper debuted in theaters back in 2011, we were at the height of Kevin James' prowess in Hollywood. The King of Queens actor had wrapped his hit sitcom just a few years prior and was coming off of theatrical wins like Paul Blart: Mall Cop (2009) and Grown Ups (2010). While neither of those flicks were particularly well-reviewed, they do have higher Rotten Tomatoes audience scores and did well at the box office. Both also spawned sequels.
Zookeeper, on the other hand, is roundly hated by critics. It also, despite making a little over $169 million at the box office, is generally considered a flop. This was due to its $80 million budget – much larger than the budget for Kevin James' other comedy credits around the same time. Due to splitting revenue with theaters, a movie needs to make quite a bit more than its budget in order to break even and Zookeeper was a flop in its time.
In fact, thanks to using real animals it also pissed off PETA and overall became one of the less memorable Happy Madison flicks. A year later, Kevin James went on to do voice work in the much more well-liked Hotel Transylvania and Zookeeper just became a small blip in his otherwise generally successful career.
Yet, now it too is finding success thanks to Netflix. At the time of this writing, in fact, it's sitting pretty in the #7 slot in terms of U.S. viewership. Not too bad for a movie that lost money at the time. Meanwhile, this makes me wonder about mediocre movies finding a second life on Netflix. A lot more people are finding movies such as Zookeeper (and plenty of other former flops). I think it probably says something that we're more accepting of mediocrity when it feels free (or an included cost rather) than shelling out for something subpar on the big screen.
Netflix has also struggled or is not interested in creating a bunch of incredibly good original content, particularly in the movie realm, though small movies like The Fundamentals of Caring and bigger budget flicks like The Irishman or Extraction have been standouts. The service is trying to accrue a bunch of different types of content for different factions of people on a global scale, but the Top 10 list does feel like it has something to say about the average person's taste and what people would really prefer to watch these days. Or maybe we're all just champing at the bit for new content?
Your Daily Blend of Entertainment News
Reality TV fan with a pinch of Disney fairy dust thrown in. Theme park junkie. If you've created a rom-com I've probably watched it.
Your Daily Blend of Entertainment News
Thank you for signing up to CinemaBlend. You will receive a verification email shortly.
There was a problem. Please refresh the page and try again.