Blockbuster Returned To Twitter, And People Are Losing It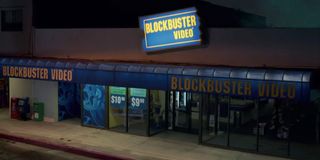 If you're a film buff who actively sought out new and old movies between the late '80s and the early 2000s, then Blockbuster Video was more than likely a part of your routine. Most can remember paying a visit to the video store after work or school to pick up the movie or game of their choosing. Of course, the chain has since dissolved, with only one store left standing. However, in a surprising development, Blockbuster has returned to social media through Twitter, and the internet has a lot of feelings about it.
This week, following a six-year absence, the Blockbuster Twitter account returned to post and retweet a few messages. And the account managed to leave former patrons shaken with a brief message:
While it may not seem like much, that simple check-in was enough to strike that nostalgic nerve within social media users. One account illustrated this perfectly be recalling the highs and lows that came with hitting up Blockbuster on a Friday night. They also used a classic movie character that's sure to give you all of the feels:
Many took the opportunity to reflect on the memories they have of visiting the stores, and this even included breaking out old Blockbuster cards:
It's not surprising that there would be those who've held on to their membership cards for all of these years. However, it would be a bit more surprising for some to still have actual films that were never returned. Yet someone apparently still has a VHS copy of a classic Nickelodeon comedy – complete with the rental sticker:
And of course, if you grew up in the '90s, you know you couldn't rent a few movies without ordering a few pizzas, and Domino's was almost synonymous with the video store chain back in the day. With this, the chain took to Twitter to post a sweet and nostalgic message:
Since the last few hundred company-owned stores closed up in 2014, Blockbuster Video has managed to stay within the public consciousness through social media culture and word of mouth. The franchise has also been referenced in various forms of media, with Marvel Studios' Captain Marvel being one of the most recent projects to utilize it.
The last operating store, which is located in Bend, Oregon, has also become extremely popular over the last few years, but even that store is about to undergo a slight change. For a limited time, the location will be offering guests the chance to have a '90s-themed sleepover through Airbnb.
While Blockbuster was far from perfect and many seem more than content with accessing new movies through PVOD releases and streaming services, it's still a vital part of many of our lives. Let's hope the public and Blockbuster itself can still find ways to at least keep the name alive for generations to come.
Keep it here at CinemaBlend for more news from the world of movies and TV.
Covering superheroes, sci-fi, comedy, and almost anything else in film and TV. I eat more pizza than the Teenage Mutant Ninja Turtles.
Your Daily Blend of Entertainment News
Thank you for signing up to CinemaBlend. You will receive a verification email shortly.
There was a problem. Please refresh the page and try again.