Tenet And 10 Other Major 2020 Films That Probably Won't Debut On Streaming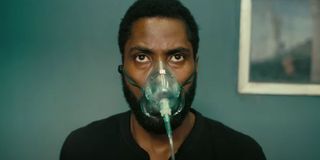 2020 has, above all else, been the year of the release date shuffle. With benchmarks to reopen major theaters across the United States being varied, and in some cases unfulfilled, we're starting to look at some cases where a "limited theaters" rollout is starting to be applied to films that would have opened far and wide in normal conditions. And as writer/director Christopher Nolan's time-bending opus Tenet looks to be the first test case of such a debut, it's assured that a handful of other major studio products aren't headed to streaming any time soon.
With that in mind, and in consideration of the folks who are sitting in the audience wondering if there's a chance that the summer blockbuster they've been looking forward to will ever debut as a streaming exclusive, we have a list prepared. Sadly, it's a rundown the movies that will most likely only be heading to a theater near you. But it's best to rip the bandages off now and let the wounds heal, rather than pretend that anything short of calamity, catastrophe and/or collapse will let the following films become PVOD debuts.
Tenet
Even in the face of the potential content win that streaming new kid HBO Max could score by bringing Tenet to people's living rooms, it's a possibility that's pretty much destined to not happen. With studio brass making statements confirming as much, and as Christopher Nolan himself is known to prefer the theatrical experience, it's just not in the cards. Instead, this would-be summer blockbuster is resorting to opening internationally, and in limited domestic cities, to make its 2020 debut happen as planned.
Wonder Woman 1984
As much as Tenet is a confirmed theatrical release for the Warner Bros 2020 schedule, you could assume if that particular experience goes well, Wonder Woman 1984 will most assuredly follow in its cinema-opening footsteps. Patty Jenkins' previous entry became a runaway smash for the DC Extended Universe, and 2020 has been year that hasn't seen as much comic-fueled action as we're used to. So saving Gal Gadot's '80s nostalgia trip/hero action is another seemingly locked in pick for movie theater dispersal.
A Quiet Place Part II
The fact that the world at large hasn't seen A Quiet Place Part II is one of the stronger stings of 2020's parade of suck. Just as the John Krasinski/Emily Blunt sequel was ready to head out into the world, all major theater chains saw themselves closed up out of safety. So if you're a studio like Paramount who had a huge ringer on their hands right as the world shut down, it's a safe bet you'd want to coast on that wave of anticipation when the lights come back on. The Spongebob Movie: Sponge on the Run might be headed to streaming, but these beasties surely aren't.
Godzilla vs. Kong
Gigantic Titans longing for combat, ready to throw everything they can at their adversaries, aren't exactly small screen fodder. Godzilla vs. Kong is a larger than life spectacle, so that's naturally being saved for the big screen in the TBD future. More importantly, this sequel arrives at a crucial point in the MonsterVerse, where the future of the franchise is in a bit of question. Now, more than ever, the theatrical performance of a Godzilla/Kong movie is going to matter, as the way forward may be determined by what we see here.
Top Gun: Maverick
Audiences are feeling the need for speed with Top Gun: Maverick, as another decades-in-the-making sequel is about to take flight. But even aside from that point, this is a Tom Cruise-driven blockbuster. Even if this film wasn't focused on Captain Pete "Maverick" Mitchell, it's a Cruise flick; and since he's kind of the last of a dying breed of movie star that drives attendance with their name alone, there's no way Top Gun: Maverick was going to be starting life on a streamer. That's pretty much admitting that you've lost that lovin' feeling once and for all.
Antlers
As prolific a producer as he is a filmmaker, Guillermo del Toro is one of those talents who can help sell a movie with name recognition alone. So naturally, Searchlight Pictures is going to want to keep director Scott Cooper's Antlers in theaters because of said recognition, as del Toro is one of the producers. But also, from the look of the film's dark and dangerous tale of caring for one's family, even if they're turning into a mythical godlike creature, there's a lot of big screen potential for scare-driven entertainment. Scale is everything with a horror movie, especially when it's one told with a child lead.
F9
Even if it was a possibility that F9 would have gone to a home streaming service for its big worldwide debut, would you really want it to? There's just something about the gigantic prized franchise that Universal holds in its hands that makes it a theatrical event. From the big thrills on the screen, to the hordes of fans cheering, whooping and hollering at Vin Diesel and his turbocharged family pulling off feats of death defying logic and skill, F9 and the entire Fast Saga are just too big to not go to a movie theater.
No Time To Die
Holding out on the final Daniel Craig Bond film's chances of cinematic glory is another shrewd move for Universal's business-minded process. With No Time To Die promising a huge finale to Craig's tenure as 007, the film that's about to "change everything" is another picture that was really close to dropping before the world shut down. As studio and theater chains alike want big ticket titles that'll welcome audiences back, No Time To Die is pretty much an assured ace in the hole for those who want to get back to business as usual.
Halloween Kills
You technically could send a movie like Halloween Kills to a streaming/premium VOD debut, as the genre of horror isn't exactly one that's always known for tentpole-style thrills. However, as much as Universal seems content to keep pushing Candyman's theatrical release, Halloween Kills isn't going to become a PVOD title anytime soon, and no one could blame the studio for toeing that particular line. Halloween crushed at the box office in 2018, and to deny moviegoers the chance to see Jamie Lee Curtis, Judy Greer and Andi Matichak wage war on Michael Myers yet again in a theater near them would be pretty close to cinematic treason.
Black Widow
The Marvel Cinematic Universe is an almost guaranteed money printer when it comes to the operations of Disney's cinematic apparatus. So thinking even for a second that Black Widow would be going to Disney+ is something that's enough to make any box office analyst laugh heartily. With the deficit in revenue suffered from the lack of cinematic operation, as well as the hiccup in theme park operations for 2020, Disney's going to want to claw back as much profit as possible; and that partially means that Scarlett Johansson's Natasha Romanoff will be going to theaters ASAP.
Mulan
Mulan is another one of those titles that, just as critics were digging in for coverage and the world was about to see the goods for themselves, the doors of theaters were shut. That, on top of the previously mentioned financial strife on Disney's bottom line, means that this potentally important live-action remake isn't going anywhere, except to the big screen. With the studio rumored to be contemplating a Disney+ drop of the Pixar film Soul, it feels like that particular move would be the stopgap leading to both of Disney's live-action films with big practical components and gigantic production/marketing budgets being kept in theatrical rotation.
While there are probably still a couple of surprise premium VOD/streaming service debuts to come in 2020, the titles we've just listed are almost certainly not going to take such a bow. Though nothing is ever certain, because if circumstances delay theater openings any further, or any other sort of mishap occur, any of these films could be next on the train to Streamsville. We'll just have to wait and see what the future brings, and know that whenever such an announcement breaks, CinemaBlend will be there to report those last minute newsflashes.
This poll is no longer available.
CinemaBlend's James Bond (expert). Also versed in Large Scale Aggressors, time travel, and Guillermo del Toro. He fights for The User.
Your Daily Blend of Entertainment News
Thank you for signing up to CinemaBlend. You will receive a verification email shortly.
There was a problem. Please refresh the page and try again.