Jennifer Lawrence Movies: What To Watch Streaming If You Like The Hunger Games Star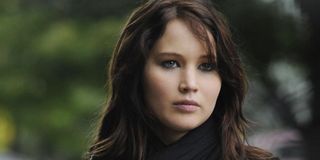 CinemaBlend participates in affiliate programs with various companies. We may earn a commission when you click on or make purchases via links.
There aren't too many actresses in Hollywood who've celebrated the same phenomenal early success as Jennifer Lawrence. Over the course of the past decade, Lawrence went from playing the daughter character on TBS' short-lived sitcom, The Bill Engvall Show, to headlining one of Sundance's most astonishing success stories to becoming one of the youngest Oscar nominees in the award show's lavish history. From there, the exceptionally talented actress went from front-lining a major Hollywood franchise to actually winning an Oscar at a mere 22-years-old (!), thus proving herself to be one of the world's biggest stars — possibly even the biggest (for a good while, at least).
Throughout the years, Jennifer Lawrence has provided several splendidly uninhibited and sparklingly spectacular performances — in movies big and small. While some titles weren't as strong as others, the outstandingly talented young actress dedicates her well-accomplished career to proving herself in many courageously challenging film roles. If you love Jennifer Lawrence, here are some movies worth streaming now!
Silver Linings Playbook (2012)
Released from a psychiatric hospital, a bipolar former teacher (Bradley Cooper) attempts to reconcile with his ex-wife with the help of a mysterious young widow (Jennifer Lawrence).
Why It's A Good Option For Jennifer Lawrence Fans: Over the course of two years, Jennifer Lawrence went from being a talented-beyond-her-years, up-and-coming, Oscar-nominated standout actress to becoming one of our most famous A-list superstars. While The Hunger Games' impressive success played a big part in this progression, her Oscar-winning performance in David O. Russell's dizzyingly wonderful rom-com, Silver Linings Playbook, was ultimately what turned Lawrence into one of Hollywood's hottest stars. Lawrence's incredibly unflinching performance— filled with visceral vulnerability, impressive range, and unwavering confidence, particularly from a novice movie star — is astonishing to watch. Plus, her radiant chemistry with Bradley Cooper was vibrantly palpable. It's a mesmerizing performance, certifying Lawrence as the real deal.
Stream It On Netflix here (opens in new tab).
Winter's Bone (2010)
As their family home faces eviction, a determined Ozark Mountain girl (Jennifer Lawrence) treks through dangerous terrain to find her missing drug-dealing father.
Why It's A Good Option For Jennifer Lawrence Fans: For many movie lovers, Winter's Bone was their formal introduction to Jennifer Lawrence's astonishing acting talents. At 20 years old, Lawrence captivated viewers at the Sundance Film Festival with her incredibly accomplished early role in this indie darling, proving to be a critical and awards season success as the small-budget movie was nominated for Best Picture and Lawrence received her first Oscar nomination. It's a well-earned distinction. Lawrence is uncompromisingly raw and powerfully instinctual in this mature and well-developed performance, showcasing the exceptional actress's ability to bring a vivid urgency and enriching authenticity into her performances, even from the very beginning. It's a stunning lead role, solidifying Lawrence as a bright acting talent worth following.
Stream It On HBO Max here (opens in new tab).
American Hustle (2013)
A pair of con artists (Christian Bale, Amy Adams) team up with a cocksure F.B.I. agent (Bradley Cooper) to dive into the underworld of powerbrokers and the mafia.
Why It's A Good Option for Jennifer Lawrence Fans: Even in a film filled with outlandish characters and larger-than-life personalities, Jennifer Lawrence makes quite an impression in David O. Russell's crime-dramedy, American Hustle. Appropriately filled with hustle (yes) and bustle, Lawrence plays Rosalyn, the histrionic, long-suffering wife of Christian Bale's Irving, with fiery gusto and unapologetic hutzpah. Emboldened by her Oscar-winning performance in Silver Linings Playbook, Lawrence is unafraid to demand attention and play the part bold and brash. While it's not always successful, it's certainly memorable, producing an outrageously spirited, vibrantly outspoken character that Lawrence clearly has a ball playing to the fullest. Lawrence arguably produced the splashiest, most sensationalized performance in this splashy, sensationalized movie.
Stream it on FX here.
The Hunger Games Movies
Based on the YA book series by Suzanne Collins, The Hunger Games follows a dystopian future where teenagers from various districts must compete in an elaborate televised showdown. The story centers around Katniss (Jennifer Lawrence), a young, impoverished woman who volunteers to take her young sister's place in the life-or-death tournament.
Why It's A Good Option for Jennifer Lawrence Fans: Please pardon the pun if you can, but The Hunger Games franchise was quite a gamechanger for Jennifer Lawrence. Once an exceptionally promising young actress with an Oscar nomination to her name, The Hunger Games was what solidified Lawrence as an A-list superstar, proving that her vulnerable, naturally intuitive acting talents could translate rather seamlessly into a multi-million-dollar action movie series. Catching Fire only burned brighter as Lawrence's profile rose higher.
Stream The Hunger Games and The Hunger Games: Catching Fire on Freeform here and here. Also catch Mockingjay Part 1 and Part 2.
Like Crazy (2011)
A British exchange student (Felicity Jones) falls in love with an American student (Anton Yelchin), only to be separated when she's denied re-entry into the U.S.
Why It's A Good Option for Jennifer Lawrence Fans: Shortly after her incredible Academy Award-nominated turn in Winter's Bone but a year before she found superstardom with The Hunger Games and an Oscar through Silver Linings Playbook, Jennifer Lawrence provided some notable supporting roles. The best example was her brief-but-excellent part in Like Crazy, Drake Doremus' intimately personal romantic drama exploring the fractured divides that form around long-distance relationships — even in our technologically-advancing age. Lawrence appears in the middle as Samantha, whom Anton Yelchin's tries (but fails) to date when things fall apart with Felicity Jones' Anna, but Lawrence brings a lovely mix of charisma and later melancholy to this pre-fame performance.
Stream It on Hulu here (opens in new tab), Amazon Prime here and Epix here.
The Beaver (2011)
A depressed executive (Mel Gibson), faced with his lowest point amid personal and professional troubles, uses a beaver hand puppet to communicate and overcome his personal struggles.
Why It's A Good Option for Jennifer Lawrence Fans: The Beaver is an odd duck. The concept is audacious, but the approach is mostly grounded, likely in an effort not to make light of our lead character's mental health battles. The tonal shifts aren't always graceful, and the side characters don't get as much time to develop as our troubled protagonist and his handy associate. But what really makes it work beyond Jodie Foster's commendable direction are the principal performers, including Mel Gibson, Foster, the late Anton Yelchin, and Jennifer Lawrence. Though she's strictly in a supporting role in this dark dramedy, Lawrence's emotional honesty fleshes out her love interest side character. Plus, she shares great chemistry with her Like Crazy co-star.
Stream It on Showtime here.
X-Men: First Class (2011) & X-Men: Days Of Future Past (2014)
This prequel series follows Charles Xavier (James McAvoy) and Erik Lensherr (Michael Fassbender) as they form what will soon become the X-Men.
Why It's A Good Option for Jennifer Lawrence Fans: Though this superhero franchise exploring the early days of the mutant-friendly group didn't end on the best terms, this reboot film series started out wonderfully with 2011's X-Men: First Class and 2014's crossover extravaganza, X-Men: Days of Future Past. Notably, First Class was benefitted nicely by its fresh-faced ensemble of outstanding young actors, including James McAvoy, Michael Fassbender, Nicholas Hoult, and Jennifer Lawrence. Though sometimes hidden under mountains of blue body make-up, Lawrence brought intriguing layers to this new take on Mystique. While her performance wasn't as inspired in later installments, she does a fine job in these first two blockbusters.
Stream X-Men: First Class on HBO Max here (opens in new tab) and X-Men: Days Of Future Past on Disney+ here. (opens in new tab)
mother! (2017)
A couple (Jennifer Lawrence, Javier Bardem) have their relationship tested when unexpected guests (Ed Harris, Michelle Pfeiffer) arrive at their house, disturbing their tranquility.
Why It's A Good Option for Jennifer Lawrence Fans: It's hard to think of many movies more aggressively polarizing than Darren Aronofsky's psychological horror film, mother! Meant to be a biblical allegory studying humanity's vicious mistreatment of mother nature, the movie in the margins — traversing the artist's history with his leading women and his potential god-like complex (in this case, a very literal one) — provides a fascinating and often deeply unsettling examination into Aronofsky's creative mindset. It becomes a fractured-but-revealing window into the restless soul of a well-regarded extremist filmmaker, exploring a troubled creator's burning sense of self and the people caught in the flames around him. At the center of it all is Jennifer Lawrence, Aronofsky's former partner, who gives one of her most enthralling performances. Her unbridled commitment is devastatingly haunting to watch.
Stream It On FX here.
In addition to all these streamable movie titles, we should also note that Red Sparrow is available to stream on FX and Fubo, The Poker House is currently on Amazon Prime, House at the End of the Street is now on Netflix, Serena is found on Tubi and Hoopla, X-Men: Apocalypse is available on Disney+ and FX, X-Men: Dark Phoenix can be seen on HBO Max, The Hunger Games: Mockingjay - Part 1 and Part 2 are also on Freeform, and The Burning Plain is on Tubi and Vudu. What's your favorite Jennifer Lawrence movie and/or performance? Please feel free to let us know below!
Will is an entertainment writer based in Pittsburgh, PA. His writing can also be found in The Playlist, Cut Print Film, We Got This Covered, The Young Folks, Slate and other outlets. He also co-hosts the weekly film/TV podcast Cinemaholics with Jon Negroni and he likes to think he's a professional Garfield enthusiast.
Your Daily Blend of Entertainment News
Thank you for signing up to CinemaBlend. You will receive a verification email shortly.
There was a problem. Please refresh the page and try again.