Following The Invisible Man, Elisabeth Moss Has Found Her Next Blumhouse Movie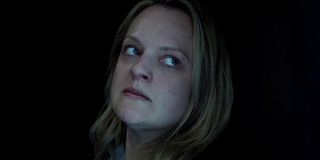 Golden Globe-winning actress Elisabeth Moss has been turning a lot of heads lately. From her winning performance in The Handmaid's Tale to her latest terrifying foray in The Invisible Man, she continues to be an actress to watch. With that said, she has plenty of new projects lined up and recently just signed on again for her next Blumhouse movie.
By all means, Blumhouse and Elisabeth Moss found a winning combination in The Invisible Man and seem to want to capitalize on that success. Now it's been announced that the two parties will produce a new feature based on the yet-to-be-released psychological thriller novel Mrs. March, written by Virginia Feito. Elisabeth Moss is set to star and will produce under her production company Love and Squalor Pictures.
The movie, which will also be written by Virginia Feito, is about a polished Upper East Side housewife who unravels when she suspects the detestable protagonist of her husband's best-selling novel is based on her.
Elisabeth Moss has said to have already gotten her hands on the novel and read it in one sitting. Moss described the main character as being "complex" and "deeply human." But those eager to read Mrs. March will have to wait a bit longer, as the novel is scheduled to be released on August 2021.
Deeply human characters set in a psychological thriller story sounds like a movie right up Elisabeth Moss' alley. She seems to have a knack for taking on characters and stories with messed up stuff happening around them, while also excelling at playing characters in quieter dramas.
By adding Mrs. March to her schedule, Elisabeth Moss is on fire and working harder than ever. This year, it was also announced that she'll be playing a serial killer in a TV show called Candy. On top of that, she will be an executive producer and star of the Apple+ original series entitled Shining Girls, a story set in Depression-era Chicago about a portal that goes to different time periods. So get ready to see a lot more of Elisabeth Moss.
Of course, since Elisabeth Moss and Blumhouse will be teaming again up for Mrs. March, one has to wonder if they will also keep working together for a sequel to The Invisible Man. After all, the terrifying monster movie received rave reviews and made over $130 million on a $7 million budget.
As of now, there's no official news on if The Invisible Man 2 is coming. However, Elisabeth Moss didn't rule it out, saying that if people want it, then that's a good first step to making it happen. If I had to wager, I'd bet fans want it. In the meantime, Moss and Blumhouse's upcoming movie, Mrs. March, sounds just as intriguing.
Your Daily Blend of Entertainment News
Your Daily Blend of Entertainment News
Thank you for signing up to CinemaBlend. You will receive a verification email shortly.
There was a problem. Please refresh the page and try again.