New Star Wars Story Takes A Shot At Infamous Anakin Skywalker Line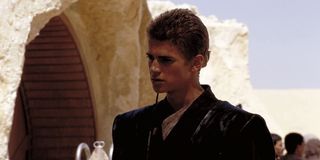 CinemaBlend participates in affiliate programs with various companies. We may earn a commission when you click on or make purchases via links.
There are a lot of things Anakin Skywalker is remembered for in the Star Wars saga, such as his love of podracing, being a hero of the Clone Wars, turning to the dark side and becoming a terrifying cyborg. But among Anakin's more cringeworthy moments during the Prequel Trilogy was in Attack of the Clones, when he told Padme Amidala that he didn't like sand because it's "coarse and rough and irritating and it gets everywhere."
Given Anakin Skywalker's rough childhood on Tatooine, it's understandable why he'd have negative feelings about sand, but nevertheless, that line has received a lot of ridicule in the nearly two decades since Attack of the Clones came out. Now a new Star Wars story has poked fun at that line by declaring that his son, Luke Skywalker, is a huge fan of sand… well, under the right circumstances.
Marvel's current Star Wars ongoing comic book series follows Luke Skywalker in the time period between The Empire Strikes Back and Return of the Jedi as he investigates a vision he experienced of a mysterious woman catching the lightsaber he lost in his duel against Darth Vader on Cloud City. While Luke has already decided he doesn't want his father's old lightsaber back, his journey to find that woman takes him to the planet Serelia in the latest issue. Alas, when Luke finds the woman, she runs away from him, leading into an intense water chase and Luke being tossed into the waves.
Upon being rescued by R2-D2, Luke Skywalker says the following when making it back to shore (via Digital Spy):
There you have it, folks. Luke Skywalker lived on Tatooine approximately twice as long as his father did, but even he can find a reason to like sand. Granted, that was after almost drowning, so maybe under normal circumstances, Luke also isn't that fond of it. Oh well, at least for Star Wars fans, we have yet another amusing mockery of Anakin Skywalker's infamous sand line.
Luke eventually tracks down the woman who eluded him later on in Star Wars #5, learning that her name is Verla and that while she's not a Jedi, she is Force-sensitive. Luke then learns about Order 66 and the Inquisitorius, i.e. how any Jedi, or anyone thought to be a Jedi, is to be killed on sight. That's why Verla ran away from Luke; she thought he was hunting her for the Empire.
It initially seems like Luke and Verla are on good terms, but before Luke can inquire with her about his vision of her holding his old lightsaber, Verla discovers Luke is Darth Vader's son, and the issue ends with her trying to drown him. You'll have to wait until Star Wars #6 comes out next month to learn how Luke gets out of this jam, though obviously he survives since he needs to rescue Han Solo from Jabba the Hutt's clutches on Tatooine, the planet covered in sand. Hey, look at that, we came full circle!
You can now watch all the Star Wars movies, from The Phantom Menace to The Rise of Skywalker, on Disney+, and if you're not already signed up for the streaming service, you can do so here. As for what the future holds in a galaxy far, far away. while the next Star Wars movie won't arrive until December 2023, The Mandalorian Season 2 will premiere on Disney+ in October.
Your Daily Blend of Entertainment News
Connoisseur of Marvel, DC, Star Wars, John Wick, MonsterVerse and Doctor Who lore. He's aware he looks like Harry Potter and Clark Kent.
Your Daily Blend of Entertainment News
Thank you for signing up to CinemaBlend. You will receive a verification email shortly.
There was a problem. Please refresh the page and try again.