8 Great Anime Movies Available Streaming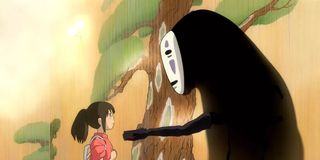 I'm going to cause some controversy here, but what is anime anyway? Is Avatar: The Last Airbender anime? Is the recent Castlevania on Netflix anime? I'm sorry, but no, and no. Yes, they are both inspired by anime, and you can definitely call them American anime if you want to. But anime is, at its heart, Japanese animation that literally comes from Japan. So even though there are movies and TV shows from different countries that like to replicate anime's style, they are not truly anime if the animation didn't originate from the land of the rising sun. I hope I've cleared that up for you.
But seriously (honestly, if you want to call ATLA anime, then go ahead. I don't care), anime is so popular that pretty much everybody has watched it in some form or another. Whether it was Pokemon when you were growing up, or Attack on Titan as an adult, anime is probably bigger now in this country than it has ever been before. This is kind of crazy, since I didn't think it could get any bigger than it was back when I was in high school. But it is, and I have a list of 8 great anime movies that you can watch streaming right now if you have a few good hours to spare. Balse!
Spirited Away (HBO Max)
Arguably Hayao Miyazaki's best film, 2001'a Spirited Away is essentially a story about growing up. It's all set to some bizarre, Miyazaki-esque imagery that features an old woman with a massive head, a floating spirit with a mask, and little toad people.
But the abstract imagery adds to this beautifully told story about a girl who moves to a new town only to find her parents transformed into pigs. The film won an Academy Award for Best Animated Feature, and was, for a time, the highest grossing Japanese movie ever. You really can't go wrong with Spirited Away. It's a masterpiece.
Stream it on HBO Max (opens in new tab).
Akira (Hulu)
1988's Akira is probably the most well-known anime movie ever made. It's a post-Apocalyptic film (set in the year 2019!) about a teenager named Kaneda and his friend, Tetsua (or should I say, Tetsuaaaaaa!). Tetsua, you see, develops telekinetic powers and goes kind of crazy. There's more to it, of course, but that's the main thrust of it all.
So why is it so popular? Well, mostly because of some of its adult themes, its violence, and its crazy (and disgusting) animation. It's not the boldest animated film you'll ever see, but its legacy persists, and you should definitely check it out if you haven't seen it already.
Stream it on Hulu (opens in new tab).
My Neighbors the Yamadas (HBO Max)
1999's My Neighbors the Yamadas is a visually interesting film. It's a Studio Ghibli picture, but it looks like no other movie in their catalogue. That's because it has a sort of comic strip look to it, which is why I think the word "anime" should be reserved only for Japanese Animation, since one look at this film and you'd likely not even call it anime since it doesn't have that "anime-look" to it.
But My Neighbors the Yamadas is cute. It's a series of vignettes about a variety of topics like losing a kid in the store, going out with a girl for the first time, etc. HBO Max has the dubbed version, so you'll hear the likes of James Belushi, Tress MacNeille, and others when you watch it. It's fun, so give it a go.
Stream it on HBO Max (opens in new tab).
Mirai (Netflix)
In this enchanting story from 2018, a four-year-old boy named Kun travels to a magical garden where he meets different ancestors, one of which being his baby sister, Mirai… but as an older woman. (Mirai actually means "future" in Japanese). It's actually a really sweet story that's kind of like Spirited Away, but with time elements for good measure.
Mirai is a quaint little film and one that got me a little teary-eyed by the end. It has a trippy plot, but the story and heart to back it up.
Stream it on Netflix (opens in new tab).
The Tale of The Princess Kaguya (HBO Max)
Probably the most distinctly beautiful movie on this list, The Tale of The Princess Kaguya, which came out in 2013, is about a girl who came out of bamboo (but was she born there?) and grows up fast. She becomes a princess, but her past haunts her, and she has to deal with the consequences.
The Tale of The Princess Kaguya is another film that doesn't really look like "anime" per se, but it is gorgeous, with art that even looks like brush strokes at times. The music is also lush and beautiful. It's probably the artsiest film on this list, so watch it if you are into that sort of thing.
Stream it on HBO Max (opens in new tab).
Grave of the Fireflies (Hulu)
And now for something really depressing. In this 1988 classic, we see a brother and his younger sister just trying to survive through the tail end of World War II. But remember, they're on the losing side. So I'll just tell you now: You're not going to be happy by the time the end credits role.
Like Akira, Grave of the Fireflies is vintage anime that elevated the genre to new levels with its masterful storytelling and its chilling visuals. Astro Boy it's not.
Stream it on Hulu (opens in new tab).
Ninja Scroll (Hulu)
Like most boys of a certain age, if you asked me what show was my gateway drug into anime TV, I'd tell you it was Dragon Ball Z (or Sailor Moon, depending on what day you ask me). But if you asked me what movie got me into anime, I would tell you it was Ninja Scroll, which is about a wandering warrior who has to take on a clan of killers (Niinjjjaaaaaa).
Ninja Scroll, which came out in 1993, is the quintessential anime movie, and it's right up there with Ghost in the Shell and Vampire Hunter D. The action is still sick, even today, and the visuals are violent as hell. Out of all the movies on this list, this is probably what most people think of when they hear the word anime.
Stream it on Hulu (opens in new tab).
Godzilla: Planet of the Monsters (Netflix)
Lastly, I want to talk about a Japanese animated movie that every Godzilla completionist needs to see, since it is in fact canon and part of the Reiwa era. Godzilla: Planet of the Monsters is actually part 1 of a trilogy, so if you like this movie, then you should definitely check out the sequels, Godzilla: City on the Edge of Battle and Godzilla: The Planet Eater.
That said, the first one, which came out in 2017, is the best one. It's about some ancestors of Earth who are returning to the planet, only to be met by Godzilla, who had been the cause of fleeing the planet in the first place. It takes a very long time to get started, but Godzilla is freaking scary at the end, which is not something that all Godzilla movies can say.
Stream it on Netflix (opens in new tab).
There are plenty of other great anime movies out there (like Dragon Quest: Your Story on Netflix), but I think this is a nice little assortment of films to check out if you're just getting into the medium. But I'm always interested in learning about new anime flicks, so let me know of any that you might currently be watching that's not on this list. I'd love to find new films.
Rich is a Jersey boy, through and through. He graduated from Rutgers University (Go, R.U.!), and thinks the Garden State is the best state in the country. That said, he'll take Chicago Deep Dish pizza over a New York slice any day of the week. Don't hate. When he's not watching his two kids, he's usually working on a novel, watching vintage movies, or reading some obscure book.
Your Daily Blend of Entertainment News
Thank you for signing up to CinemaBlend. You will receive a verification email shortly.
There was a problem. Please refresh the page and try again.