Jake Paul Now Making A Music Video About His FBI Raid Because 2020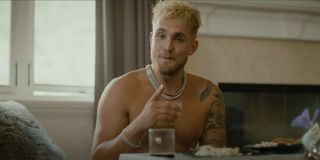 Jake Paul has a big boxing match coming up, but apparently he's splitting interests a bit right now and still working on his musical career. The YouTube star is still dealing with the attention related to an FBI raid that was undertaken at his Calabasas home a few weeks ago. He laid low for a bit afterward, but now he's being more open about what happened and is apparently even creating a music video about the FBI raid for his fans, because 2020.
If you've seen any of Jake Paul's previous YouTube music videos, he takes them quite a bit more seriously than some of his other original content, at least in terms of production value. There's real cinematography and actual casting involved. TMZ got the scoop for the FBI Raid music video after finding a casting sheet for the new project, which mentions "reenacting his recent run-in with the law."
More details on the upcoming music video indicate that Jake Paul and his crew will be filming in Calabasas on Saturday, presumably at the home that was raided by the FBI, because obviously that location makes the most sense. People are being hired to play the FBI from the raid, as well as some paparazzi and then, as is typical for a Jake Paul production, lots of women will also be involved. To clarify that point, most of his music videos look like this:
When the FBI Raid originally happened, there was a lot of tactical gear and even some armored cars involved. In addition, reportedly some guns and computers were confiscated from Jake Paul's home after the warrant was executed at his house. I'm not really a poet, but I just see a line that's something along the lines of "they took my guns/but they can't take my huns" coming our way soon.
Meanwhile, in the time since the raid, both Jake Paul and the FBI have independently confirmed that the raid happened following looting events that occurred at a mall in Scottdale, Arizona following a George Floyd protest in the area. Jake Paul has said that while he was at the event, he was not looting.
Meanwhile, he is preparing for a fight against ex-NBA player Nate Robinson that should have been coming up shortly, but has been pushed back to November. That hasn't stopped the two from exchanging a little trash talk ahead of the event, however. And Jake Paul better keep his eye on the prize. If he takes too many days off to hang with women and shoot music videos, who knows what could happen down the line?
It should also be noted that Jake Paul was already in a bit of public hot water for having too many people at his home after throwing a rager, which is initially one of the things people thought the YouTube star could have been raided for. (Though in retrospect that theory is wild.) Though we now know that's not the case, we'll have to wait and see how many people show up for this music video this time not wearing masks and whether anything comes out of it.
Your Daily Blend of Entertainment News
Reality TV fan with a pinch of Disney fairy dust thrown in. Theme park junkie. If you've created a rom-com I've probably watched it.
Your Daily Blend of Entertainment News
Thank you for signing up to CinemaBlend. You will receive a verification email shortly.
There was a problem. Please refresh the page and try again.