YouTube Star Jake Paul Is Extremely Confident In His Post-FBI Raid Fight With Nate Robinson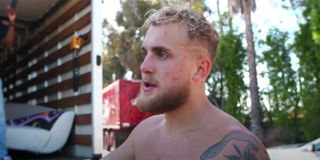 Jake Paul is not down for the count. In fact, the YouTube star may have had his home raided by the FBI recently, but he's worked to be transparent about what's happened. He's also still preparing for his upcoming boxing match against Nate Robinson and he sounds pretty confident in what's coming up.
Both Jake Paul and Nate Robinson have talked a little trash in the past, but Jake Paul recently was asked if he'd knockout the former NBA star in the first round, to which he replied, "100%, easy." Furthermore, he explained exactly how confident his fanbase should be in the big fight he still has coming up.
He got a little more cocky as the interview with TMZ wore on, noting the minute number of "fucks I give" about Nate Robinson getting some help from boxing professionals. If you've been keeping tabs on Jake Paul and his training, he hasn't exactly been a slouch in the gym as he prepares and he does have boxing experience, though against fellow YouTubers rather than pros. Still, the novelty factor should be there.
Although he's laid low since the FBI raid on his home at the tail end of last month, he's still clearly pumped about a lot of other things going on in his life, including the impending boxing match. It's a match Mike Tyson even commented on given the fight will be the undercard on his boxing match against Roy Jones Jr., and Jake Paul calls the shoutout "fire."
For his part, Nate Robinson hasn't been a slouch, either. In a former trash-talking match, Nate Robinson referred to Jake Paul as having a "bird's head ass" and telling him he better be "a man of [his] word" after Jake Paul said he'd knock him out the first time. Meanwhile, the former NBA player also hasn't been dealing with fallout over an FBI raid related to looting in a Scottsdale, Arizona area mall or anything, so he hasn't had any side issues interrupting his training, either.
If you aren't up on the raid story, the FBI came by Jake Paul's home to execute a warrant… in full tactical gear and with armored cars in tow. Some guns and also computers and stuff were allegedly pulled from the home and later both Jake Paul and the FBI independently confirmed the warrant had to do with Jake Paul being on the scene during a looting incident following a protest a few months ago.
Jake Paul previously spoke out on the incident and said he's been focusing at the gym and "couldn't be more determined and ready to fight." The fight was previously earmarked for September but now we will need to wait a bit longer because it has been pushed back until November. We'll keep you up to date on all of the trash talk until then.
Amazing Race & Top Chef superfan with a pinch of Disney fairy dust thrown in. Theme park junkie. If you've created a rom-com I've probably watched it.
Your Daily Blend of Entertainment News
Thank you for signing up to CinemaBlend. You will receive a verification email shortly.
There was a problem. Please refresh the page and try again.