Jamie Foxx Can't Stop, Won't Stop Campaigning To Play Spawn, And I'm Here For It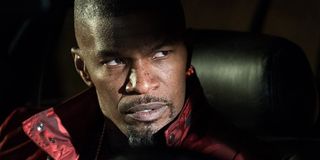 Academy Award-winning actor Jamie Foxx has given us a number of great performances in a variety of roles over the years, and it sounds like he's about to give another one in a Mike Tyson biopic. But while he's played all kinds of characters, there's one role that he's been campaigning to play for a while -- Spawn. And while the project has had its starts and stops, Foxx still isn't giving up on it, which is great to see.
With the success of Black Panther, Jamie Foxx recently said that there's never been a better time to make a Spawn reboot happen. His commitment to the project has been impeccable, and it's definitely shone through every step of the way. Here's what he said during that recent interview:
Good grief, just give the man the role already! Obviously, Jamie Foxx is an incredible actor and, with the right script and creative talent, he could knock Spawn out of the park. Honestly, at this point, I think it would be more of a surprise if Foxx didn't end up being cast.
Jamie Foxx has been campaigning for the role of Al Simmons/Spawn since 2013. Fans undoubtedly know that the role was previously played by Michael Jai White in the 1997 film. However, the actor wasn't seriously considered for the part until several years later when Spawn creator Todd McFarlane signed on with Blumhouse Productions to write and direct the film.
Aside from Jamie Foxx making his case for the role and many fans wanting it, he also has support from within Blumhouse. It turns out Todd McFarlane himself is also on board with Jamie Foxx playing the titular character. Supposedly, Jamie Foxx flew out to see Todd McFarlane just to talk to him about his interest in the character and the movie. Later, Todd McFarlane said that he needed the lead to be able to nail six moments, moments he felt only Jamie Foxx could pull off. That's practically a ringing endorsement.
Unfortunately for both the writer and star, while the new script has been written by Todd McFarlane, things have been slow to take off for the project. Early last year, Todd McFarlane explained the reason for that—money, and he was waiting for everyone to agree on the script before they put in their money. He also said he didn't want too many changes to the script, otherwise, he might just walk away. So that kind of pressure might be slowing things down a bit for Jamie Foxx's Spawn debut.
Fast forward a year and Jason Blum, of Blumhouse Productions, confirmed that Spawn is in active development, but he didn't have much else to say on the topic except more news could be coming soon.
Despite the ups and downs the project has faced, one just can't help but take note of Jamie Foxx's commitment. Some might say that anyone would obviously want to play a superhero on the big screen, so his campaigning should come as no surprise. However, Spawn isn't exactly a household name and doesn't stand to make the amount of money that a Marvel or DC film would earn at the box office. So taking this into consideration, one would have to conclude that Foxx's motivation isn't money but a sheer love for the character and a desire for further representation in the superhero genre.
It's been a while since we've had a Spawn movie but, hopefully, the folks at Blumhouse can get things worked out so that the character will make his long-awaited return to the cinema. And let's be honest, Jamie Foxx more than deserves it and fans need to see it. Until we hear more news, be sure to stay tuned to CinemaBlend for the latest movie and TV news.
Your Daily Blend of Entertainment News
Your Daily Blend of Entertainment News
Thank you for signing up to CinemaBlend. You will receive a verification email shortly.
There was a problem. Please refresh the page and try again.