The New Spawn Film's Script Has Been Written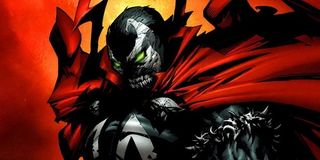 Comic book adaptations are getting braver, there's simply no denying it. As audiences become more familiar with the genre, studios have started to get bolder and less conventional with the content that they produce. No longer are we stuck with just Batman, Spider-Man, and Superman; characters on the fringe have long waited for their chance to shine, and now it seems that they will get their moment in the spotlight. One such character that has faded into obscurity in recent years is Spawn, but now it looks like the demonic anti-hero has just taken a major step forward towards his next on-screen outing.
According to ComicBook.com, Screenwriter Todd McFarlane revealed that he has officially finished writing the script for the upcoming Spawn film:
Even cut down to 140 pages, that's still incredibly long for a superhero movie. It's a smart bet that the film would focus on the origins of the character and devote a great deal of time to explaining him to audiences that may not be familiar with his nuances. As a highly trained soldier resurrected after being sent to hell, his origin story is as complex as it is badass. With that in mind, they will likely need to pad the film with extra amounts of exposition to get mainstream audiences on board. Another reason for the increased length of the script is that Todd McFarlane – an avid Spawn fan – is writing the script in the hopes that he himself will actually get to direct the project when it goes into production
We should note that recent developments in the world of superhero cinema seem to be paving the way for Spawn to be an incredibly faithful adaptation of the hard-hitting source material. By his very nature, Spawn is a violent character and wholly deserves a hard R-rating. The unprecedented success of Tim Miller's Deadpool may serve as the catalyst to finally give R-rated characters like Spawn the silver screen treatment that they deserve.
It's been almost 20 years since we last saw Spawn on the silver screen, and most fans of the source material would agree that they would rather forget that movie ever even happened. Released in 1997, the original Spawn starred Michael Jai White, John Leguizamo, Melinda Clarke, and Martin Sheen. In case you haven't heard of that particular movie, check out the trailer below and you will immediately understand why people don't talk about it.
So it looks like the character Spawn may have found new life after all. Are you excited to see the character return to the silver screen? Let us know below.
Originally from Connecticut, Conner grew up in San Diego and graduated from Chapman University in 2014. He now lives in Los Angeles working in and around the entertainment industry and can mostly be found binging horror movies and chugging coffee.
Your Daily Blend of Entertainment News
Thank you for signing up to CinemaBlend. You will receive a verification email shortly.
There was a problem. Please refresh the page and try again.