Hey Charlize Theron, A New Mutants Star Is Really Excited For The Old Guard 2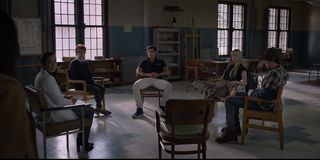 Over the years, Charlize Theron has done a phenomenal job portraying complex characters that also happen to be very good at cracking skulls and taking names. Her latest foray into that kind of territory was Netflix's The Old Guard, where she played an immortal mercenary. Needless to say, fans are excited about the possibility of The Old Guard 2, and as it turns out, so is one star from The New Mutants.
With The New Mutants now in theaters, CinemaBlend's own Eric Eisenberg recently interviewed Alice Braga, who plays the antagonist Dr. Reyes, and she's very much into what Charlize Theron has been doing lately on screen, especially portraying powerful women. Here's what she had to say:
This makes a lot of sense. Alice Braga, herself, has been in a good number of action films. From Repo Men to Predators to Elysium, she has gravitated frequently to tough-as-nails science fiction action movies. The New Mutants is the latest addition in that lineup ahead of her next gig in The Suicide Squad.
Since Alice Braga has a good history of appearing in these kinds of movies, it seems like she would be a great fit for The Old Guard 2. So, when asked later if she would be in that, here's what she said:
Hear that, Charlize Theron? Keep Alice Braga on your radar when casting for the new movie. She's totally down for it. As long as The Old Guard 2 become a reality. Still, the first movie's ending set up narrative threads to pull from.
Officially a sequel to The Old Guard has yet to be confirmed. But considering the movie is breaking records on Netflix, the director and writer would both be up for continuing the story, and Netflix's Chief Content Officer Ted Sarandos hinted at a possible franchise, it feels likely a sequel could happen.
The Old Guard also heavily teased a possible sequel at the end and a possible storyline for the future. With that surprise ending, even Charlize Theron thinks they would have to follow it down that trail and face it head-on. Since Charlize Theron's character met a new immortal in The Old Guard, it's not out of the question that she and her friends could find another one in a sequel, which could be a pretty cool role for someone like Alice Braga. For more movie news, be sure to stay tuned to CinemaBlend.
Your Daily Blend of Entertainment News