Charlize Theron Shares The Old Guard Set Photo As Tribute To The Stunt Team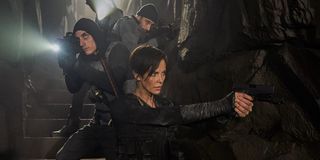 An easy takeaway from the huge streaming hit The Old Guard starring Charlize Theron is that it has some badass fight scenes and action throughout. The visceral, thrilling, and bone-shattering sequences help dial the movie up a few notches, especially during those battles. Of course, you don't get to that level without a great stunt team, and Charlize Theron thinks the same with the latest photo tribute on her social media. Check it out:
This touching tribute really shows just how vital stunt coordinators and trainers are to the success of a movie, especially one with so many action scenes like The Old Guard. From the way she talks, it sounds like the stunt team inspired her to train hard and do things she hadn't done before. And that deserves some serious praise.
And from what we've heard, the training to make Charlize Theron transform into Andromache of Scythia sounded just as intense as the action scenes themselves. They had Charlize Theron work on axe training, combat training, and other forms of martial arts throughout the length of the production for three to four hours a day.
Of course, Charlize Theron is no stranger to high-intensity action films. She's well-known for her role as Furiosa in Mad Max: Fury Road, not to mention her other roles in The Fate of the Furious and Atomic Blonde. So, she brings her own level of experience to the formula as well.
With so much stunt training, there's always the risk that an actor or stuntman might be seriously injured. In The Old Guard's case, Charlize Theron shared recently that happened to her during production. While shooting the movie, she tore a tendon in her left thumb but instead of stopping production, she said they should just keep pushing through and finish the shoot.
Well, it sounds like all that hard work, blood, sweat, and tears are paying off for Charlize Theron and her stunt team. The Old Guard is breaking Netflix streaming records, reaching a massive 72 million households in a month.
While a sequel isn't confirmed, The Old Guard is seeing massive success and features one heck of a sequel tease. So it seems likely a follow-up could be on the horizon. Right now Greg Rucka, the original comic writer, is at work on the sequel to his graphic novel, and director Gina Prince-Bythewood seems at least a little interested in coming back for another movie.
If Netflix does give The Old Guard 2 a green light, they certainly should find a way to bring back this stellar stunt team to deliver more thrilling fight scenes. For more of the latest movie news, be sure to tune in to CinemaBlend.
Your Daily Blend of Entertainment News