Halloween And 4 Other Horror Franchises That Would Be Scarier During A Pandemic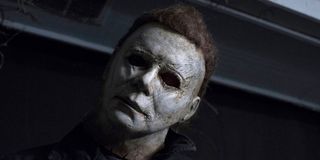 2020 has been a bummer, and this is thanks in large part due to a worldwide pandemic, resulting in social distancing and isolating. While a lot of things that have been disappointing, there is a bright side to all this that we all must remember to look at when things feel dark: we could all live in a world where the scariest horror franchises are actually real, which would make this whole situation suck a hell of a lot more.
That's not to say the reality of this year hasn't been scary enough, but I can't act like it wouldn't be worse with ghosts and deranged serial killers pursuing me. On that note, here are the horror franchises I've pondered and would definitely be worse in a pandemic scenario, for various reasons I never really thought about until 2020.
Halloween
Being targeted by the evil Michael Myers would be bad enough, and there are few people who truly stand a chance against the serial killer. Escaping Michael Myers is a monumental task on its own, so what would you do if you didn't have a lot of areas in which to get away from him? Limited access to areas due to city shutdowns would immediately hamper someone's ability to evade him and essentially make you a sitting duck. Unless your house is booby-trapped like Laurie Strode, the odds of survival won't be good.
Plus, let's just state some facts here. Out of all the iconic slasher villains in Hollywood, which one looks like he washes his hands the least? Michael Myers is always out here slicing throats and looking filthy, so you know even coming in contact with him during a pandemic would be a bad situation even if you survive. Plus, this guy always has a high body count and has fluids flying over him. There's no way he wouldn't catch whatever's going around in a short amount of time.
Final Destination
The general premise of Final Destination is terrifying enough, in that those who cheat death then have death pursue them. Now imagine cheating death, but then a stay at home order being issued and having to quarantine. Sure, you'd avoid getting your head lopped off by a log that falls off a semi, but what about all the things you interact with every day that can kill you?
I shudder to even put this idea out in the universe, but perhaps the scariest Final Destination of them all would be the one that gives me a phobia of all the ways I could die in the comfort of my own home. I'm already shaky around barbed wire, so the last thing I need to do is worry about a garage door spring cutting straight through my body, or the grease from my morning bacon scalding me and then causing me to crash through a window and bleed to death. That's stuff I already think about, so imagine what a Hollywood screenwriter would come up with.
A Nightmare On Elm Street
Obviously any type of sickness is scary enough to the general population during a pandemic, but just think for a moment about the side effects of COVID-19 during A Nightmare On Elm Street. One of them is extreme fatigue and exhaustion, and obviously, that means you're going to sleep a good deal more than you usually do. Victims in these movies typically suffer enough trying to escape Freddy, but imagine having to do that frequently over the course of a couple of weeks.
Plus, let's just discuss in general how difficult it has been to avoid a midday nap during the height of these work-from-home times. I guess having a supernatural mass murderer hunting me would better help me avoid that urge, but even then, only a little. The real bummer would be how much harder it would be to track the fact Freddy is picking people off, due to people being found randomly dead in their homes and likely limiting contact with one another.
The Conjuring
To be entirely honest, I don't think The Conjuring would be as terrifying in a pandemic as some of these other franchises, but it's only because the premise doesn't get much more terrifying. Dealing with active malevolent spirits in the midst of a pandemic would be a nightmare, especially when there's no real reprieve from them during a shutdown. Oh, the crazy ghost in your house that won't stop rocking in the creaky rocking chair? Too bad, you can't leave the house.
Which is one of the few times the subjects of The Conjuring get any real break from the hauntings and all that. Plus, are Ed and Lorraine Warren going to be so willing to travel across the country and help exorcise this spirit when there's a virus going around? These are the answers we just don't know, and if I can't get them in my corner for some supernatural haunting, I might as well start posting pamphlets for paranormal social distancing in hopes of teaching these guys some responsibility.
The Ring
The lore of The Ring is rather simple. You watch this disturbing video that looks like an art student's college project, and then someone calls you on the phone and announces you have seven days until you die. Overall, it's a weird process, and even in supernatural terms, it's hard to understand why they need to call a phone to deliver that message. But I'm not here to dissect and criticize the rules Samara Osorio-Morgan adheres to as a ghost of vengeance.
The biggest hangup with The Ring in quarantine is that your only chance of surviving is by unraveling the whole mystery behind the video and figuring out how to make it right. That takes research, lots of travel and conversations that likely wouldn't be happening in the midst of a shutdown. Sure, maybe you could video conference with a few people, but at that point you'd probably be so rattled by what you saw on television that you'd rather not be on a screen for a while. Overall, it's just a bad situation made worse by the fact that boredom in quarantine would certainly be the time it's most tempting to watch an unmarked VHS.
Do you have any other ideas for horror franchises that would be made that much worse by a pandemic? Let us know in the comments what you think, and as always, be sure to stick with CinemaBlend to stay in the loop on all the latest things happening in movies and television.
Mick likes good television, but also reality television. He grew up on Star Wars, DC, Marvel, and pro wrestling and loves to discuss and dissect most of it. He's been writing online for over a decade and never dreamed he'd be in the position he is today.