Mission: Impossible 7 Director Christopher McQuarrie Announces Start Of Filming With Breathtaking Photo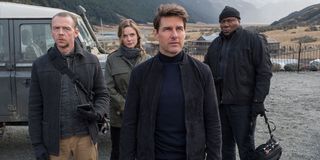 The Mission: Impossible franchise is notorious for its epic stunts and choreography and, since the first installment, Tom Cruise has continued to up the ante, with plenty of help from director Christopher McQuarrie, of course. Well, now it looks like McQuarrie has come up with new ways to keep that tradition alive for Mission: Impossible 7, as he's announced the start of shooting with an amazing new photo.
Just when you thought Tom Cruise and Christopher McQuarrie couldn't come up with anything else to impress us, they come out of the gate with a wild new tease for the upcoming sequel. Recently, Christopher McQuarrie shared this new photo on Instagram and declared "Day 1" of filming. Check it out:
Wow. I can't stop looking at this. It's impossible to know who the man is in the photo or what exactly they are trying to accomplish by having someone jump that ramp. Regardless, it should be an incredible scene, and I am so ready for this movie now.
This new photo also gives us a little peek into a six-week long-planned stunt that the Mission: Impossible 7 production had been working on before disaster struck. The stuntman that flew off the ramp landed on padded cardboard safely, but the motorbike exploded a few feet away from the stuntman. Fortunately, no one was hurt, but it apparently caused more setbacks for production.
Believe it or not, this isn't the old wild stunt Tom Cruise and Christopher McQuarrie had planned. In late July, reports suggested that they had their sights set on an old, decommissioned bridge in Poland and that they were working with government officials in Poland to potentially blow it up.
However, the Mission: Impossible 7 production team faced heavy backlash for their plans to blow up the bridge, specifically from some who wanted to turn the structure into a monument. Christopher McQuarrie eventually addressed the issue to set the record straight and, due to the controversy, it looks like they have now backed away from their initial plans.
While this might be "Day 1" for filming again, Mission: Impossible 7 had been filming since earlier this year in Italy and the UK. However, due to the coronavirus pandemic, they had to halt production in Italy. Tom Cruise did, however, continue to film some stunt scenes in the UK before stopping there, too.
Since then, both Mission: Impossible 7 and 8's released dates have been delayed, and Tom Cruise has been hard at work trying to get filming to resume, even working with the UK government to make that happen. In early summer, the team set its sights on a September date to resume filming. And now that it's September, it looks like they're back at it again just as they had planned. For more updates on Mission: Impossible and the world of movie news, be sure to stay tuned to CinemaBlend.
Your Daily Blend of Entertainment News
Your Daily Blend of Entertainment News
Thank you for signing up to CinemaBlend. You will receive a verification email shortly.
There was a problem. Please refresh the page and try again.