Colin Farrell: What To Watch Streaming If You Like The Batman Actor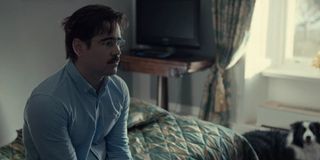 CinemaBlend participates in affiliate programs with various companies. We may earn a commission when you click on or make purchases via links.
Colin Farrell is one of the most versatile and interesting actors working today. His roles and projects are unpredictable--Farrell has done everything from big blockbuster movies to critically acclaimed indies. His diverse body of work makes him an actor who you'll rarely get bored watching. Sticking with his ability to shock and amaze his fans, Farrell recently signed on to play the Penguin in The Batman. Of all the Batman comic villains that Farrell could have played, the Penguin would have been my last guess on who I would see him bring to life.
This is just one of the many times that Colin Farrell has gone against type-casting or expectations, and taken on a role that he knows he can bring uniqueness and originality to his portrayal. Farrell is a chameleon who really tries to embody all his characters, no matter how strange.
Fortunately for Colin Farrell fans, there are plenty of great movies starring him available to stream on premium and free streaming services.
Seven Psychopaths - Amazon Prime
Colin Farrell teams up with writer-director Martin McDonagh for Seven Psychopaths, a movie about a struggling writer whose dognapping friends get him involved with a gangster. Meanwhile, Marty (Farrell) is trying to finish his screenplay and this misadventure might be what he needs to find the perfect story.
Why Colin Farrell Fans Will Like It: Seven Psychopaths is one of the few movies where Farrell is not the craziest character. Farrell is enjoyable to watch in the film, but it's made even better with the all-star ensemble featuring Woody Harrelson, Sam Rockwell, and Christopher Walken. They all bring a distinct brand of crazy to Seven Psychopaths.
Stream it on Amazon Prime here.
Dumbo - Disney+
Tim Burton directs this live-action version of Disney's beloved animated classic Dumbo. It features two former Batman actors, Michael Keaton and Danny DeVito, the former Penguin, with new The Batman actor Colin Farrell. and Eva Green, Alan Arkin, Nico Parker, Finley Hobbins, and a CGI elephant.
Why Colin Farrell Fans Will Like It: Dumbo is a semi-family friendly movie, so it's a great Farrell choice if you're trying to watch content that stars the actor that your children can also watch and enjoy. It's also an action-adventure tale that is a lot different from his other work.
Stream it on Disney+ here (opens in new tab)
In Bruges - HBO Max
Two hit-men are forced to stay in Bruges, Belgium after a job blunder. Their time in Bruges is anything but peaceful. In Bruges is the feature-length directorial debut of Martin McDonagh, who later went on to direct the Academy Award-winning dark comedy Three Billboards Outside Ebbing Missouri.
Why Colin Farrell Fans Will Like It: Many consider In Bruges one of Farrell's best performances for his comedic timing and the depth he brings to the character. Farrell has done plenty of comedies since In Bruges, but it was one of his first comedies and helped establish how good he is at comedy, especially when paired with equally talented actors like Brendan Gleeson and Ralph Fiennes.
Stream it on HBO Max here (opens in new tab).
The Lobster - Netflix
A group of singles go to a hotel where they only have several days to find a match. If they don't find one, they're turned into an animal of their choosing.
Why Colin Farrell Fans Will Like It: The Lobster is a strange and slightly disturbing movie that is light on the comedy elements and high on the dark ones. Like with The Killing of a Sacred Deer, it features another collaborative partnership between Farrell and Yorgos Lanthimos. The Lobster has an all-star cast that includes Olivia Colman and John C. Reilly.
The Lobster presents some fascinating ideas of love and companionship that makes it deserving of multiple viewings, especially if you're a Colin Farrell fan, because this is another role where he physically and emotionally transforms himself into his character. He makes his character, David, a little ruthless, a little desperate, a little hopeful, and very compelling.
Stream it on Netflix here (opens in new tab).
The New World - Vudu
The New World is a retelling of the story of Pocahontas (Q'orianka Kilcher) and her love story with John Smith (Colin Farrell).
Why Colin Farrell Fans Will Like It: This isn't Disney's Pocahontas but a more complex look at her story, relationship with John Smith and John Rolfe (Christian Bale), Native Americans, and the British colonizing of America. Terrence Malick directs this visually stunning movie. Farrell gives a subtle performance that allows him to shine, but Kilcher to stand out even more as the young lead, and that's a sign of a good acting partner.
Stream it on Vudu here (opens in new tab).
Horrible Bosses - HBO Max
A group of friends decide to murder their bosses. Jason Bateman, Charlie Day, and Jason Sudeikis play the friends, and Jennifer Aniston, Colin Farrell, and Kevin Spacey play their bosses.
Why Colin Farrell Fans Will Like It: If a murder plot doesn't seem ridiculous enough, the film becomes more over-the-top as it continues. Horrible Bosses is a hilarious movie with many outrageous performances, especially by the bosses, but Farrell's character has to be one of the standouts in this movie. It's so weird and funny.
Stream it on HBO Max here (opens in new tab).
Ondine - Tubi
Ondine deals with Irish folklore and the ideas of selkies, creatures who can change from seals to humans by losing their skin. It follows the romance between Syracuse "Circus" (Colin Farrell) and Ondine (Alicja Bachleda). Circus's daughter Annie (Alison Barry) believes that Ondine might be a selkie because she was caught in his fishnet and came back to life from drowning.
Why Colin Farrell Fans Will Like It: Ondine is a fairytale/mythology based in real life. It introduces non-Irish movie fans to a little history and folklore. With Neil Jordan as director and heavy Irish accents, Ondine feels like a tribute to Ireland and sea life. It's a curious romantic drama that's worth exploring and diving into.
Stream it on Tubi here.
Fright Night - Showtime
The 2011 version of Fright Night is a remake of the 80s cult-classic horror film of the same name. The film follows Charley Brewster (Anton Yelchin) as he discovers that his neighbor Jerry (Colin Farrell) is a real life vampire. This discovery leads to a major battle between the two. Fright Night's cast includes Christopher Mintz-Plasse, David Tennant, Imogen Poots, Toni Collette, and Dave Franco.
Why Colin Farrell Fans Will Like It: Both Fright Night films are entertaining, and though I adore the original, this one is just as entertaining. Farrell's Jerry is a slick, devious, and terrifying vampire. He brings a darkness and creepiness every time that he's on the screen. The entire cast works really well in 2011's Fright Night, and it's one of the rare adaptations that feels different from the original, but not in a bad way.
Stream it on Showtime here.
The Beguiled - Max Go
Sofia Coppola directed The Beguiled, a movie based on a book that later became a 1971 movie. The film stars Nicole Kidman, Kirsten Dunst, Elle Fanning, and Colin Farrell. During the Civil War, only five students and one teacher remain at an all-girls school. One day, a student stumbles upon a wounded soldier, Corporal John McBurney (Farrell). Each of the girls find themselves competing for his attention.
Why Colin Farrell Fans Will Like It: The Beguiled is an interesting look at female sexuality, ruthlessness, and a steady decline towards insanity--all in war times. Colin Farrell gives a layered performance as the fox in the hen house type of character, who discovers the hens are actually wolves. He's alluring but also manipulative, lustful, and dangerous for many reasons.
Stream it on Max Go here.
The Killing Of A Sacred Deer - Netflix
Steven Murphy (Colin Farrell) forms a bond with a strange kid named Martin (Barry Keoghan). At one point, he fully integrates Martin into the life of him and his family. Then Martin's true intentions begin to surface. Martin possesses an unusual hold on Steven that may destroy the Murphy family.
Why Colin Farrell Fans Will Like It: The Killing of a Sacred Deer feels like a cousin to Hereditary, but like 30 times more confusing and disturbing. The entire cast of this movie does a great job with their characters, but Farrell's Steven is what draws you in by being sympathetic enough to let you feel sorry for him on this tragic journey.
Stream it on Netflix here (opens in new tab).
Minority Report - Showtime
Tom Cruise stars in Minority Report, a science fiction action movie set in the year 2054. For years, murders have been prevented thanks to a psychic technology that allows them to find would-be murderers before they commit the crime. Cruise plays John Anderton, the head of the police department that deals with this technology. He finds himself hunted when he's accused of a future murder.
Why Colin Farrell Fans Will Like It: Farrell plays Danny Witwer, a Department of Justice agent. He's the man leading the charge against Anderton. Minority Report is a sleek sci-fi crime drama that Steven Spielberg directs, so the visuals are just as fascinating as the story. It's always interesting to see him in the sci-fi landscape.
Stream it on Showtime here.
Besides these movies listed, Farrell has plenty of other films available to stream or rent, like The Gentlemen and The Way Back. Colin Farrell will appear in The Batman on October 2, 2021
Spent most of my life in various parts of Illinois, including attending college in Evanston. I have been a life long lover of pop culture, especially television, turned that passion into writing about all things entertainment related. When I'm not writing about pop culture, I can be found channeling Gordon Ramsay by kicking people out the kitchen.
Your Daily Blend of Entertainment News
Thank you for signing up to CinemaBlend. You will receive a verification email shortly.
There was a problem. Please refresh the page and try again.