Hugh Jackman Jokingly Threatens Ryan Reynolds With Lawsuit Over Deadpool 3 Fan Poster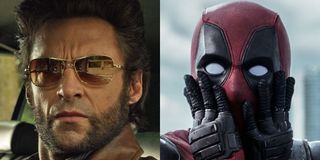 When it comes to Hollywood bromances, Ryan Reynolds and Hugh Jackman have proven to have one of the most endearing (and comedically vicious) relationships. The two actors love to poke fun at each other, and the result is almost always entertaining. One of the biggest factors that bonds the two actors together is their involvement in the X-Men franchise. Although Jackman has retired from the role of Wolverine, fans still want to see him cross paths with Reynolds' Deadpool, and a fan recently made that happen with a custom Deadpool 3 poster. But upon seeing the finished product, Jackman jokingly threatened legal action against Reynolds.
The fan-made poster that was recently created for the highly anticipated Deadpool 3 includes various MCU and Fox characters, ranging from Iron Man to X-Force member Peter. Also included is Hugh Jackman's Wolverine, though Jackman's face can also be seen on a hot air balloon basket. Ryan Reynolds agreed with the fan's sentiments that the movie needed to happen, but Jackman provided a different response on Twitter:
It looks like Hugh Jackman is becoming a master at trolling just like his friend, Ryan Reynolds. His humorous reply is just another prime example of why fans enjoy the faux feud between the two stars.
On a separate note, the actual poster itself is definitely a movie that many of us would love to see. Given the developments in the MCU and X-Men universes, certain things would need to be altered, but this could be just the kind of madcap, dimension-hopping tale Wade Wilson needs for his third cinematic outing. And if Reynolds could somehow convince Jackman to reprise his role as Logan one more time, that would only make things better.
Believe it or not, the character of Wolverine has actually been a focal point for the "feud" between Reynolds and Jackman. There have been numerous instances in which both actors have used the character to one up each other. One of the most memorable moments was when Jackman celebrated the third anniversary of Logan with a sentimental post, which was followed by Reynolds marking the occasion with a recreation of the character's demise.
The pair has also found ways to channel their antics into charitable efforts. Earlier this year, Ryan Reynolds managed to continue their feud and simultaneously aid those who have been impacted by the ongoing global health crisis. You definitely love to see two actors who are willing to fight (each other) for a cause.
It's only a matter of time before either Hugh Jackman or Ryan Reynolds takes a jab at the other, and the joke is sure to be humorously cruel. We'll be waiting to see who strikes first in continuing the famously fake feud.
Keep it here at CinemaBlend for more news from the world of movies and TV.
Covering superheroes, sci-fi, comedy, and almost anything else in film and TV. I eat more pizza than the Teenage Mutant Ninja Turtles.
Your Daily Blend of Entertainment News
Thank you for signing up to CinemaBlend. You will receive a verification email shortly.
There was a problem. Please refresh the page and try again.