Wolverine Had The Sharpest Response To Ryan Reynolds Calling Hugh Jackman 'A Fraud'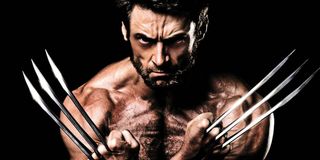 Hollywood has a storied history of feuds. But none have been quite as epic, or quite as hilarious, as the ongoing tongue-in-cheek animosity between Hugh Jackman and Ryan Reynolds. After the Deadpool star called The Greatest Showman himself a "fraud," their no-holds barred battle of the wills reached a new peak. And the Wolverine actor took to social media to respond.
The two actors have been in a (fake) feud for what feels like forever. And in a recent interview in Australia while promoting his new Netflix movie 6 Underground, Ryan Reynolds did not hold back when it came to sharing how he feels about Hugh Jackman:
Hugh Jackman has no problem going toe-to-toe with the man behind Deadpool. But this time, he let his superhero alter ego respond. On December 13, he shared a set of two photos on his official Instagram account, making it pretty clear how he felt about Ryan Reynolds' most recent accusations:
If the warning to his fellow mutant is any indication, in addition to being a triple threat, Hugh Jackman is also pretty proficient with Photoshop. And it's not the first time this week the X-Men star has used his Instagram account to poke fun at his friend. After the trailer for Ryan Reynolds' upcoming film Free Guy hit the internet, Hugh Jackman responded. He shared an image from the film, with his head edited onto Ryan Reynolds' body, with a typically snarky caption: "A small edit to make this a much better promotional tool."
Ryan Reynolds was quick to respond to Hugh Jackman's barb, commenting, in true Ryan Reynolds form, "What the sh**?!?" The back-and-forth between the two actors is especially amusing, given that earlier this year, they called a truce. They even went so far as to endorse each other's respective brands, Laughing Man Coffee and Aviator Gin. The cease fire was understandably short-lived after their ads were revealed. While Ryan Reynolds' gave a heartwarming tribute to his friend, Hugh Jackman's ad featured him calling the Deadpool star a "fucking asshole."
Each savage shot leaves fans wishing for an eventual Wolverine appearance in the Deadpool franchise. The two faced off in 2009's X-Men Origins: Wolverine, but Hugh Jackman has, thus far, maintained that he won't revisit his iconic character in any future films (a fact that seems to grind Ryan Reynolds' gears). So for now, it seems we'll have to settle for watching them battle each other on social media.
Your Daily Blend of Entertainment News
Your Daily Blend of Entertainment News
Thank you for signing up to CinemaBlend. You will receive a verification email shortly.
There was a problem. Please refresh the page and try again.