Hugh Jackman Is Trolling Ryan Reynolds Again, This Time About Free Guy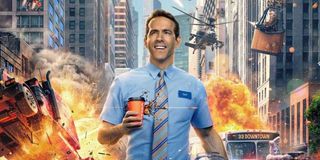 There are few certainties in life, but one thing we can always count on is Hugh Jackman and Ryan Reynolds trolling each other mercilessly on social media. Over the past few years, the Wolverine and Deadpool stars have made it a habit to make each other look as ridiculous as possible. This time, it's Hugh Jackman's turn -- and he's using Ryan Reynolds' upcoming movie Free Guy to set up the punch line.
In Free Guy, Ryan Reynolds plays a NPC in a video game, who quickly realizes he's going to have to take a more active role if he wants to save the entire game's existence. It's gonna be a little while until we actually get to see Free Guy - while it was originally scheduled to hit theaters in July, the action-comedy has been pushed back to this winter due to the COVID-19 pandemic.
However, that didn't stop Hugh Jackman's coffee company, Laughing Man Coffee, from repurposing some of the Free Guy marketing material in order to send out a quick PSA on Instagram:
This isn't the first time that Hugh Jackman and Ryan Reynolds have weaponized their side gigs against one another. In May, Ryan Reynolds shared an ad for his Aviation gin, ostensibly to promote social distancing -- but he also made sure to take the time to get a dig in at, ahem, another beverage brand. Which was only fair, after Hugh Jackman's less-than-flattering "ad" for Aviation gin last year.
The Wolverine star has also plugged Laughing Man coffee by offering up a free supply to Blake Lively, Ryan Reynolds' long-suffering wife. This feud-that's-obviously-not-really-a-feud has been going on for a long time now -- and it's clearly all in good fun.
The actors have often used their shared connection to Marvel to instigate their back-and-forth, and it's only natural to wonder if it's only a matter of time before we see them bring their feud back in some form as Deadpool and Wolverine. And not too long ago, the pair found a hilarious way to play not only on their status as superheroes but on their link to X-Men.
During a recent X-Men reunion chat that featured Jackman chatting with the likes of Patrick Stewart, Sophie Turner and Halle Berry, Reynolds popped in hoping to join in on the nostalgia. However, the rest of the X-Men alums weren't too keen on sticking around once he joined in. And as fate would have it, all would leave the chat, leaving only Reynolds and Jackman alone in a hilariously awkward moment.
Though Hugh Jackman has no plans to return to the franchise that made him a household name, we do know that Ryan Reynolds is hard at work making Deadpool 3 a reality. While we wait for that, we'll still be able to see him in Free Guy when it (hopefully) hits theaters on December 11.
Your Daily Blend of Entertainment News
Your Daily Blend of Entertainment News
Thank you for signing up to CinemaBlend. You will receive a verification email shortly.
There was a problem. Please refresh the page and try again.